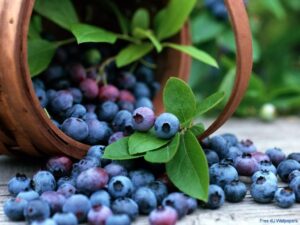 Because of the natural sugars in fruit, one might think that it should be avoided in order to prevent diabetes.
On the contrary, a study recently published in the British Medical Journal has found that greater consumption of specific whole fruits, particularly blueberries, grapes, and apples, is significantly associated with a lower risk of type 2 diabetes (adult-onset diabetes), whereas greater consumption of fruit juice is associated with a higher risk.
Fruits are very rich in antioxidants, which are substances that protect our tissues from the reactions of oxygen inside the body.  Natural processes such as digestion and metabolism create accumulated oxygen reactions that contribute to the aging and disease process.  Fruits are good at neutralizing these particles and are also a valuable source of fiber and plant coloring and pigments that have beneficial health effects.
The study on fruit's effect on diabetes prevention was centered at the Harvard School of Public Health in Boston.  Participants totaled 187,000 people and were women from the Nurses' Health Study (1984-2008), women from the Nurses' Health Study II (1991-2009), and men from the Health Professionals Follow-up Study (1986-2008).  They were all free of major diseases at the starting point. Questionnaires were used to collect detailed data.
While blueberries, grapes, and apples provided the most benefits for diabetes prevention, blueberries provided the greatest advantage when three servings per week were eaten — a 26% reduction in the odds to develop diabetes.  Servings of cantaloupe on the other hand, increased the risk by 10%, and three servings of fruit juice increased the risk by 8%.  Peaches, plums, apricots, prunes, oranges, and strawberries had a neutral risk for diabetes.
Blueberries have other significant health benefits as well. The bilberry fruit is a close cousin to the famous blueberry. During World War II, British fighter pilots reported improved nighttime vision after eating bilberry jam.
One of the most important studies on bilberries was done by researchers at the Human Nutrition Research Center in Boston, MA. The researchers used an enriched extract of bilberry in a test tube along with human retina cells. The cells were exposed to oxygen damage and bilberry was shown to have a profound antioxidant effect – protecting and reversing the damage.
Bilberry removed the stress in eye tissue, which is a strong indicator that it can safeguard the eyes against disorders of aging such as macular degeneration (blurred vision), cataracts (cloudy vision) and glaucoma (eye pressure on the optic nerve).
So let's get that fruit out for dessert and eat it for refreshing, nourishing snacks!
This natural health news is provided by Nutrition Breakthroughs, a publisher of nutrition articles and supplier of natural remedies since 2002. Nutrition Breakthroughs makes Sleep Minerals II, the effective natural sleep aid with calcium, magnesium, zinc and vitamin D, and also Joints and More, the natural solution for joint relief, arthritis, aches and pains, stronger hair, better nails, and more energy.