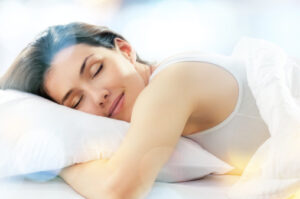 Greetings to you,
Do you ever have sleeplessness or insomnia? Or do you have a friend or family member who does?  In the video below you will discover how to obtain healthy sleep with the most effective natural sleep aids and foods.
Sometimes it can be a challenge for people who want to sleep better. There are many types of sleep remedies on the market including vitamins, minerals, melatonin, teas, herbs and liquids. How does a person select what's best for them?
Take three minutes to watch this video and discover the natural remedies and foods that have stood the test of time and been the focus of many research studies on the subject of better sleep.
Here's to your great sleep!
This video on healthy sleep was created for you by Nutrition Breakthroughs, maker of the original calcium and magnesium based sleep aid Sleep Minerals II, and Joints and More, a natural supplement for joint relief, less aches and pains and more energy.