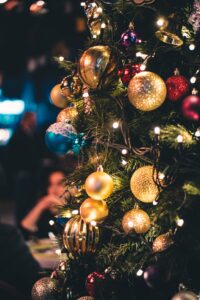 'Tis the season for holiday stress. From last minute shopping, to getting less sleep, to making ends meet financially, to consuming more sweets and drinks at holiday get-togethers.
Americans are faced with many more physical and emotional pressures during the holidays. Recent research studies and surveys in the areas of sleep, eating, and finances are shedding some light on actions one can take to lessen the stress load.
The market research firm Harris Interactive recently conducted a "Holiday Stress Index" study. The poll was based on a nationwide sample of 2,173 adults in the U.S. eighteen years and over. Ninety percent of the respondents said they experience some level of stress and/or anxiety about the holiday season. However this year, more than a third (38 percent) said they expect to feel more stress and anxiety in this holiday season due to the current economy.
One interesting aspect of this study is that people feel there is too much emphasis on gift giving and not enough on communication and connection with loved-ones. The study indicates that, given a choice, most people would prefer having good family relationships as opposed to gifts or material goods. Here are some ideas: If the wallet or purse isn't full enough, write a poem for someone and frame it, bake something special, or give gift certificates for outings, walks, or simple things a friend or family member enjoys.
For those who love food yet want to watch their calories, a study published in the Journal of Clinical Endocrinology & Metabolism found that people who rapidly bolt down their food are more likely to overeat than those who dine at a more leisurely rate. The scientists discovered that rapid eating stops the release of a hormone that tells the brain when the stomach is full.
On one day of the new study, volunteers wolfed down 2 1/2 scoops of ice cream in five minutes flat. On another, they made the treat last for 30 minutes. The Athens University scientists measured blood levels of two types of appetite-lowering hormones before and after, and discovered that when people savored their ice cream very slowly, the appetite-suppressant hormone levels were 25 percent to 30 percent higher. Enjoy those holiday parties – just take time with eating and chew, chew, chew.
Financial stress is causing Americans to lose sleep this holiday season. According to a recent study done by SleepBetter, almost half of the nation's moms and dads (44%) say they are worried about being able to afford the holidays this year, with one in six Americans (17%) expecting to lose sleep due to holiday-induced stress.
Not only do the anxieties and excitement of the season have an impact on many people's ability to fall asleep, but added obligations and busyness at this time of year mean trying to fit more into our days and nights. To sleep well, SleepBetter recommends keeping one's regular sleep schedule as best as possible during the holidays, and going to bed and getting up the same time as usual. In addition, while alcohol may help with falling asleep, it will interfere with the quality of sleep during the night as it creates a lighter, less sound sleep.
Calcium is directly related to the cycles of sleep. One study found that calcium levels were higher during some of the deepest levels of sleep, such as the rapid eye movement (REM) phase. Calcium is one of the few minerals that acts as a natural sedative, because it causes the release of the sleep-inducing amino acid tryptophan.
The science-based nutritionist Adelle Davis says: "A calcium deficiency often shows itself by insomnia, another form of an inability to relax. The harm done by sleeping tablets, to say nothing of the thousands of dollars spent on them, could largely be avoided if the calcium intake were adequate."
Calcium should be taken with magnesium in a 2 to 1 ratio, meaning twice as much calcium as magnesium.
Good nutrition can help stabilize the effects of eating sugary or fattening holiday foods. Eat fresh vegetables and fruits daily, drink lots of water, do some walking daily, and take nutritional supplements.  One supplement example is Sleep Minerals II from Nutrition Breakthroughs.  This natural sleep remedy contains highly absorbable, quick acting forms of calcium and magnesium
Sleep Minerals II helps to calm anxiety and insomnia. It also contains vitamin D and zinc and is delivered in a softgel form with healthy carrier oils, making it better assimilated than tablets or capsules and providing a deeper, longer-lasting sleep.
L.R.C. of Massachusetts says: "Due to some stressful issues in my life, I was prescribed sleeping drugs to take. I had become dependent on the medication and couldn't sleep without it. Now I take the Sleep Minerals before bed and I can sleep through the night without drugs. I'm also able to easily fall back to sleep if I do have to get up. Another benefit is this helps alleviate my chronic fatigue and aches and pains."
Here's to a healthful holiday season for all. And to one with holiday stress conquered, good sleep enjoyed, money saved, and happy conversations with family and friends!
For more information on Sleep Minerals II, visit this info page.