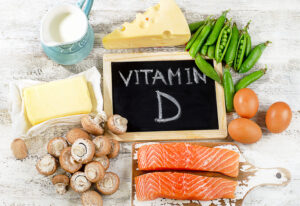 Greetings to you,
Here are some of the most recent studies done on vitamin D deficiency and its role in supporting good health:
1. Vitamin D and Insomnia: One study on vitamin D supplements for people with insomnia was published in the journal "Medical Hypothesis". The researchers followed 1500 patients over a 2 year period. A consistent level of vitamin D3 was maintained in their blood over many months. This produced normal sleep in most of the participants, regardless of their type of sleep disorder.
2. Vitamin D and Muscle Strength: Researchers in Brazil conducted a research trial and at the conclusion, the women who received the placebo ended up having reduced muscle mass and muscle degeneration of 6.8%.  They also had twice as many falls as the vitamin D group.  On the other hand, the women who took the vitamin D supplement had a major increase in their muscle strength of over 25%.
3. Vitamin D and Autoimmune Disease: A study from the Journal of Investigative Medicine found that vitamin D has important functions beyond those of supporting calcium and bones in the body.  It concluded that vitamin D is a boost to immunity and a deficiency of the vitamin is common in autoimmune disease – a disease where the body's immune system attacks healthy cells by mistake. These include multiple sclerosis, rheumatoid arthritis, diabetes and inflammatory bowel disease.
4.Vitamin D Inhibits Inflammation: ScienceDaily reports that researchers have discovered specific molecular and cellular events by which vitamin D inhibits inflammation in the body. Conditions with chronic inflammation include asthma, ulcers, arthritis, gum disease and liver disease.
5. How to Increase Vitamin D Levels: The vitamin D council recommends exposing as much of the skin surfaces as possible to sunlight for around half the time it takes for the skin to turn pink and begin to burn.  For a fair, light skinned person, this could be fifteen minutes.  For a dark skinned person, this may take a couple hours. During this time, the body may produce 10,000 to 25,000 vitamin D units. If a person is unable to get adequate sun exposure, then taking a vitamin D3 supplement is encouraged.
Good health to you,
Jobee Knight
Nutrition Breakthroughs
Maker of Sleep Minerals II with calcium, magnesium and vitamin D
This natural health news is provided by Nutrition Breakthroughs, a publisher of nutrition articles and supplier of effective natural remedies since 2001. Nutrition breakthroughs makes Sleep Minerals II, the effective natural sleep aid with calcium, magnesium, zinc and vitamin D, and also Joints and More, the natural solution for joint relief, aches and pains, stronger hair and nails and more energy.