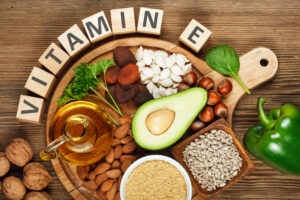 By Jacqueline Reilly
The famous vitamin E is renowned for combating aging by keeping joint degeneration at bay and increasing eye and heart health. What is not so well known is that vitamin E can help aging skin to retain its smoothness, moisture and beauty.
Research from the World Congress of Public Health and Nutrition reports that more than 90% of Americans fall below the daily recommended amount of vitamin E.  The recommended daily allowances are provided by the U.S. Food and Drug Administration, and for vitamin E it's 15 milligrams per day.
The secret to vitamin E's importance for both internal health and external beauty is similar to that of the other antioxidant vitamins (A and C) — their ability to undo the "free radical" damage that causes skin to develop lines and lose elasticity and firmness.
Free radicals are damaging molecules that come from a reaction of oxygen inside the body.  They come from pollution, smoke, medications, infection, stress, toxic chemicals, a poor diet, and also as a byproduct of normal digestion and metabolism.
"Anti-oxidants (or anti oxygen substances) such as vitamins E, C and A can help to defend the body against free radical damage and repair it.  These nutrients can assist to create skin that is firm and luminous, and incorporating both nutritional and topical approaches can be of benefit.
Topical Vitamin E in Dermatology
Vitamin E is a popular skin treatment because of its ability to stop reactive oxygen molecules from altering the formation of collagen.  Collagen is the main protein in connective tissue, bone and other key tissues in the body.  Vitamin E also maintains the elasticity in cellular spaces that provide the balance necessary to preserve skin moisture.
A dramatic example of vitamin E's effectiveness for skin health comes from a study done at Ohio State University.  Scientists there found that one particular form of Vitamin E called 'tocotrienol' could significantly reduce the amount of damage caused by burns. They concluded that "This model (research) shows that if the level of tocotrienol in the skin is increased five-fold within the first six to twelve hours after a burn, subsequent burn damage will be reduced by at least 50 percent."
Topical Vitamins Can Boost Beautiful Skin
In addition to Vitamin E, Vitamins C and A are also used in modern skincare to boost skin health and smoothness. In fact, all three vitamins work together to promote the production of collagen. As noted by Leslie Kenton in her best-selling book "The Skin Revolution", Vitamin C is essential and plays an important role in a transformation in your skin cells, taking up the important amino acid, proline, and using it to make new collagen."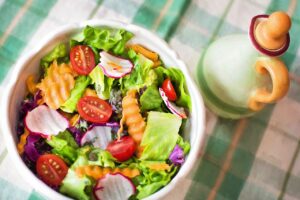 Does Diet Matter?
What a person eats can have a great affect on their skin's appearance.  It is important to consume an antioxidant-rich diet to ensure the cells are well guarded against the ravaging effects of free radicals. Avoid refined ingredients such as white flour and sugar, which cause the collagen fibers (which should be present in tidy bundles) to tangle and become crossed up.  The result can be lines, wrinkles and aging skin.
A diet featuring quality proteins like fish and grass-fed meats, seasonal vegetables and fruits, and healthy fats such as olive oil, is recommended for its richness in the antioxidant vitamins A, C, and E. 
Boosting Your Vitamin E Intake
Foods which contain good amounts of Vitamin E include nuts, seeds, avocado, leafy green vegetables, broccoli, butternut squash, olive oil, trout and kiwi fruit. Try if possible to buy organic fruits and vegetables, since recent studies have shown they contain significantly higher levels of antioxidants than conventionally grown produce. They also contain less heavy metals, and since they are pesticide-free, they help reduce the skin's toxic burden.
Vitamin E can be a great part of one's skincare routine, and there are an abundance of skincare products in natural food stores that contain this fat-soluble powerhouse. Combine a nutritional approach with a daily skincare routine, to give the skin all the nutrients it needs to glow from within. If a person has very sensitive skin, it's possible that topical vitamins in skincare products can be an irritant.  In this case, test a small amount of any product and wait several hours before using it liberally.  For all the beautifying benefits it provides, be sure to add vitamin E-rich foods to your diet.
This natural health news is provided by Nutrition Breakthroughs, a publisher of nutrition articles and supplier of natural remedies since 2002. Nutrition Breakthroughs makes Sleep Minerals II, the effective natural sleep aid with calcium, magnesium, zinc and vitamin D, and also Joints and More, the natural solution for joint relief, arthritis, aches and pains, stronger hair and nails and more energy.