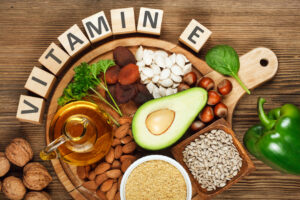 A study from the journal "Oxidative Medicine and Cellular Longevity" has demonstrated that vitamin E can prevent and treat the loss of muscle mass and strength that occurs as people age.  This loss of muscle is known as "sarcopenia".
Regarding the word "oxidative" that is included in the journal name, this refers to the process in our bodies where we process the oxygen we breathe in, and our cells produce energy from it.
This process can become imbalanced and create a state of "oxidative stress" if we don't consume enough "anti" oxidants such as vitamins E, C and A.  Besides the body's own natural metabolism functions, sources of oxidative stress can include pollution, medications or drugs, smoke, infection, stress, toxins, or a poor diet.
The researchers explain that vitamin E creates healthy muscles because a reduced level of vitamin E or a deficiency in the body is associated with an increased risk of muscle atrophy (shrinkage).  The vitamin can prevent muscle damage and encourage muscle regeneration.
Muscles in the body are particularly susceptible to oxidative damage as these are the site of the highest consumption of oxygen. Vitamin E is a fat soluble vitamin that greatly boosts cellular antioxidant capacity.  Because of this, vitamin E can be beneficial for preventing the effects of aging and for also treating infections, cardiovascular diseases, diabetes and neurological disorders.
Several studies have demonstrated an association between vitamin E levels and the amount of muscle strength or weakness.  One study in Italy was done with 1,156 participants between 65 years old and 102.  Knee extension strength tests showed that a daily intake of vitamin E is significantly related to a person's total physical performance and strength.
Another group of scientists proved the beneficial effects of vitamin E in reversing muscle damage during extensive exercise in men.  The men took 800 units of Vitamin E daily for 28 days.  After a downhill run, their oxidative stress indicators were measured and were shown to be markedly reduced in both the older and younger men.
Vitamin E has many pathways by which it brings its beneficial health effects.  In addition to being a powerful antioxidant, it is also an effective anti-inflammatory vitamin.  It may halt the overall inflammation in the body by suppressing certain reactive cells of the immune system.  These inflammatory responses and cells have a direct affect on muscle strength and mass as well, so vitamin E does its good deeds in benefiting the muscles in this additional way.
Inactivity and immobility can lead to muscle wasting, so the researchers highly encourage low intensity exercises as an effective means to increase muscle strength and performance.  This may include walking, lifting light weights, doing squats, etc.  This also increases a person's ability to balance and control the body well.  Combining a healthy diet with nutrition supplements and exercise is the most highly recommended approach to improved muscle strength.
Vitamin E has also been shown to ease arthritis pain and stiffness.  One study showed that pain parameters were significantly decreased after vitamin E treatment when compared with placebo.
This natural health news is provided by Nutrition Breakthroughs, a publisher of nutrition articles and supplier of natural remedies since 2002. Nutrition Breakthroughs makes Sleep Minerals II, the effective natural sleep aid with calcium, magnesium, zinc and vitamin D, and also Joints and More, the natural solution for joint relief, aches and pains, stronger hair and nails and more energy.