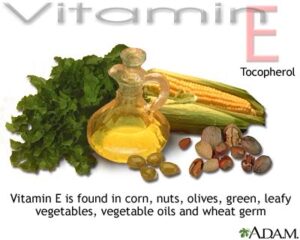 *********************************
This health news is provided by Nutrition Breakthroughs, maker of the effective calcium and magnesium based sleep aid Sleep Minerals II
*********************************
A study from the journal "Oxidative Medicine and Cellular Longevity" (see definition for "oxidative" below), has demonstrated that vitamin E can prevent and treat the loss of muscle mass and strength that occurs as people age. Vitamin E was also shown in recent research from "Gynecologic and Obstetric Investigation" to be a natural alternative to estrogen therapy and an effective remedy for hot flashes and night sweats.
Regarding the word "oxidative", this refers to the process in our bodies where we process the oxygen we breathe in and our cells produce energy from it.  This process can become imbalanced and create a state of "oxidative stress" if we don't consume enough "anti" oxidants such as vitamins E, C and A.  Besides the body's own natural digestion and metabolism functions, other sources of oxidative stress can include pollution, medications or drugs, smoking, infection, stress, toxins or a poor diet.
The researchers from the journal of "Oxidative Medicine and Cellular Longevity" explain that a reduced level of vitamin E or a deficiency in the body is associated with an increased risk of muscle atrophy (shrinkage).  The vitamin can prevent muscle damage and encourage muscle regeneration.  Muscles in the body are particularly susceptible to oxidative damage as these are the site of the highest consumption of oxygen. Vitamin E is a fat soluble vitamin that greatly boosts cellular antioxidant capacity.  Because of this, vitamin E can be beneficial for preventing the effects of aging and for also treating infections, cardiovascular diseases, diabetes and neurological disorders.
While vitamin E is famous for the health benefits it provides to glands, organs and the heart, it may not be generally known that vitamin E is a proven remedy for menopausal hot flashes and night sweats.
A hot flash, also called a hot flush, is a sudden unexpected feeling of warmth and often a breakout of sweat in the upper half of the body. These flashes occur with up to 80% of women around the time of menopause, and men can also have them due to a lessening of testosterone at middle age.  A night sweat is a "hot flash" that occurs in the night, often while one is sleeping, and can cause frequent awakenings.
Vitamin E was shown in a recent study from Gynecologic and Obstetric Investigation to be a natural alternative to estrogen therapy and an effective remedy for hot flashes.  The researchers found there were significant statistical differences in the hot flash severity score after women took a 400 IU vitamin E (softgel cap) daily for 4 weeks.  They concluded that based on the trial, vitamin E brings relief and is a recommended hot flash treatment.
Adelle Davis, the first nutritionist to base her recommendations on science-based studies, says: "During the menopause the need for vitamin E soars ten to fifty times over that previously required. Hot flashes and night sweats often disappear when 50 to 500 units of vitamin E are taken daily, but they quickly recur should the vitamin be stopped."
Calcium is also directly related to night sweats and our cycles of sleep.  In one study published in the European Neurology Journal, researchers found that calcium levels in the body are higher during some of the deepest levels of sleep, such as the rapid eye movement (REM) phase.  The study concluded that disturbances in sleep, especially the absence of REM deep sleep or disturbed REM sleep, are related to a calcium deficiency.  Restoration to the normal course of sleep was achieved following the normalization of the blood calcium level.
Regarding the need for calcium need at the time of menopause Davis says: "During the menopause, the lack of the ovarian hormones (estrogen and progesterone) causes severe calcium deficiency symptoms to occur. At these times, high amounts of calcium should be obtained and every step be taken to insure its absorption into the blood. When these precautions are taken and the diet is adequate in other respects, the woman at menopause usually loses her irritability, hot flashes, night sweats, leg cramps, insomnia, and mental depression."
One supplement that contains highly absorbable forms of calcium and magnesium is Sleep Minerals II from Nutrition Breakthroughs.  It is a proven remedy for sleeplessness and insomnia, as well as for heart health, restless leg syndrome, bone strength, menopause insomnia, hot flashes, night sweats, and teenage insomnia. Sleep Minerals also contains vitamin D and zinc and is delivered in a softgel form mixed with natural rice bran oil, making it better assimilated than tablets or capsules and providing a deeper, longer-lasting sleep.
Anita L. of New Caney, Texas says: "I was having hot flashes every 30 minutes to an hour through the night and was so miserable. After about two weeks of taking the Sleep Minerals, I noticed an incredible difference with my sleep. I have much less interruption from flashes, I'm sleeping much better and I'm a lot more comfortable."
This natural health news is provided by Nutrition Breakthroughs, a publisher of nutrition articles and supplier of natural remedies since 2002. For more information on Sleep Minerals II, visit the Sleep Minerals II page.