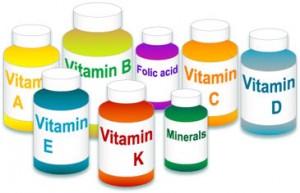 Those of us who have experienced insomnia know what its like to toss and turn through the night trying to get some good sleep.  And then the next day can be filled with brain fog, irritability, exhaustion and just not quite feeling like one's usual self.  Some will turn to sleeping drugs, only to find the effects wearing off over time and the side effects strong.
On the other hand, nutrition can be one of the most essential supports and defenses in winning the battle to achieve calmer, deeper, longer sleep.  There are some vitamins and nutrients in particular that have been shown in research studies to soothe a person's frequent awakenings and improve overall sleep.
B vitamins can come in very handy for those experiencing insomnia or restless leg syndrome (also known as RLS).  Those who have restless leg syndrome undergo unpleasant sensations in the legs described as creeping, crawling, tingling, pulling or painful. They often suffer with chronic insomnia and sleeplessness due to the strong urge to walk or do other activities to relieve sensations in their legs at night.
One study from the journal "Sleep Medicine" published the results of 28 elderly patients who had severe RLS with night time leg cramps that disturbed their sleep. They were given B complex capsules containing B-1, B-2, B-6 and B-12.  The study authors observed that after 3 months, 86% of the patients taking vitamin B supplements had prominent remission of leg cramps, whereas those taking the placebo had no significant difference.
In this study, treatment with vitamin B complex significantly reduced the frequency, intensity, and duration of night time leg cramps. Because vitamin B complex is a relatively safe and effective alternative to quinine, the main drug used for RLS, they feel that doctors should reconsider using drugs and change the usual treatment of choice for night time leg cramps.
One's overall brain health is closely related to healthy sleep.  From the same study in "Sleep Medicine", the authors noted that thiamine or vitamin B-1 deficiency can cause fatigue, weakness, intestinal symptoms, memory loss and disturbed sleep. They also point out that Parkinson's disease sufferers generally have low levels of niacin or vitamin B-3, a deficiency of which can also cause insomnia and sleeplessness.
Another point from the article is that vitamin B-6 is a necessary co-factor in the creation of amino acids, which are the building blocks of protein.  The importance of this is that brain chemicals such as serotonin and melatonin are made out of the amino acids tryptophan.  Serotonin and melatonin have key roles in supporting good sleep and cannot be produced without enough B-6.  Even a mild deficiency of B-6 results in inhibited activity of these brain nutrients and may create insomnia.
Magnesium and calcium are long-time proven sleep remedies. A study on magnesium from the University of Medical Sciences in Iran was done with 46 adults who were experiencing insomnia. Two magnesium tablets twice a day (250 mg. each) resulted in significant increases in sleep time and reduced cortisol levels in the body, which is a stress hormone that can keep people awake.
Calcium is known to soothe sleeplessness and provide a deeper sleep.  In a report called "The Nutritional Relationships of Magnesium", the author notes that the type of insomnia associated with a calcium deficiency often causes difficulty with falling asleep.  This same study says that: "Muscle cramps associated with calcium deficiency often occur at night and without exertion.  Such cramps usually involve the calves and thighs, but not the hands or feet."
Jobee Knight, a nutritional researcher and founder of Nutrition Breakthroughs in Glendale, CA., is someone who fought her own battle against sleeplessness and insomnia. She decided to put her background to use by searching out effective natural ingredients for relaxation and deeper sleep.
The result was Sleep Minerals II, a natural sleep aid which contains highly absorbable forms of the best minerals for sleep and relaxation: Calcium and magnesium, along with Vitamin D and zinc. The ingredients are delivered in a softgel form along with healthy carrier oils, making them more easily assimilated than capsules or tablets and providing a deeper, longer-lasting sleep.  These minerals are also proven to help with restless leg syndrome, bone and muscle strength, teenage insomnia and menopause insomnia.
Kimberly B. of Troy, Michigan says: "I have been taking Sleep Minerals II for about a month now. I have tried everything out there and this supplement is amazing. I have suffered with insomnia for 2 1/2 years. I have also had restless leg syndrome my entire life and this is the first relief I've ever had…gone for a month now."
In summary, make good use of natural vitamins and minerals as the first line of defense in the war against sleeplessness and insomnia.
For more information, visit the Sleep Minerals II page.