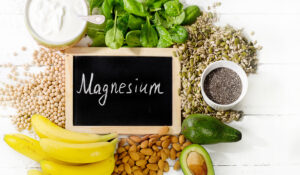 The North American Menopause Society writes that menopause is a normal, natural event, defined as the occurrence of the final menstrual period.  It takes place on average, around the age of 51.
Regarding the vital role of magnesium, the University of Maryland Medical Center says that magnesium levels in the body tend to decrease during menopause due to the lowered levels of estrogen.
Restoring magnesium to a healthy level can not only help to reduce menopause symptoms such as insomnia, hot flashes, depression, osteoporosis and anxiety, but it can also help to increase the health of a woman's organs and her overall health.  Magnesium is one of the most vital minerals and is involved in over 300 functions in the body.
Mark Hyman M.D. says: Think of magnesium as the relaxation mineral. Anything that is tight, irritable, crampy, and stiff — whether it is a body part or an even a mood — is a sign of magnesium deficiency. It is an antidote to stress…and it can help improve your sleep."
In a study from the University of Medical Sciences in Iran, research was done with 46 adults who were experiencing insomnia.  Taking two magnesium oxide tablets twice a day resulted in significant increases in sleep time and reduced cortisol levels in the body, which is a stress hormone made by the adrenal glands that can keep one awake.
In another research study from the Human Nutrition Research Center of the U.S. Dept. of Agriculture, scientists found that a high magnesium diet is associated with deeper, less interrupted sleep.  The best magnesium-rich foods to eat include dark leafy greens (spinach, chard), nuts and seeds (particularly pumpkin seeds), fish, avocado and fruit.  Bananas and figs are good sources.
Hot flashes and night sweats are the most common complaints in the pre-menopause and menopause time.  Mineral supplements such as magnesium and calcium have been shown to remedy these and provide relief.  One example is a study from the Virginia Commonwealth University Health System.  Women with at least 14 hot flashes a week received 400 milligrams of magnesium oxide for 4 weeks, increasing to 800 mg. per day if needed.
At the end of the study, the magnesium supplements had reduced their frequency of hot flashes from 52 to 28 per week, a 41.4% reduction.  Fatigue, sweating, and distress were also significantly reduced.
The women participating in the study were breast cancer survivors, thus they were unable to take the usual hot flash medications that have estrogenic activity such as hormone replacement or soy supplements.  Many women, breast cancer survivors or not, prefer to take a non estrogen-active natural remedy for hot flashes and night sweats, and the researchers concluded that magnesium appears to safely reduce hot flashes, with few side effects and at minimal cost.
Women after menopause may find themselves with thinner bones, osteoporosis and a larger waistline.  One recent study from Spain involved a study of 78 post menopausal women aged 44 to 76.  The researchers sought to discover a relationship between magnesium deficiency and a risk for obesity and osteoporosis after menopause.  Blood tests were taken to determine their magnesium levels.  The scientists found that magnesium consumption (from magnesium-rich sources) was insufficient in 36% of the women and that 72% had deficient levels of magnesium in their blood.
The study results found positive correlations between magnesium intake and a smaller waist.  Higher magnesium levels in the blood were also correlated with lower cholesterol levels. With 38% of the subjects in the study being overweight, the researchers noted the importance of postmenopausal women maintaining a good intake of magnesium in order to prevent deficiencies and degenerative physical conditions.
One supplement shown to be effective for insomnia and hot flashes is Sleep Minerals II from Nutrition Breakthroughs.  This formula contains highly absorbable magnesium and calcium, the best minerals for sleeplessness and insomnia, as well as for menopause insomnia, heart health, restless legs syndrome and bone strength.  It also includes vitamin D and zinc and is delivered in a softgel form with healthy carrier oils, making it more quickly absorbable than tablets or capsules and providing a deeper, longer-lasting sleep.
Anita L. of New Caney, Texas says: "I was having hot flashes every 30 minutes to an hour through the night and was so miserable.  After about two weeks of taking the Sleep Minerals, I noticed an incredible difference with my sleep.  I have much less interruption from flashes, I'm sleeping much better and I'm a lot more comfortable."
Sadie D. from The Netherlands says: "I am ever so grateful that I discovered Sleep Minerals II after suffering with premenopause and now the real menopausal insomnia.  I felt like I was slowly losing my mind due to the continual lack of sleep.  I can't express the relief of getting a good night's sleep and being able to function properly."
A healthy plan is to make good use of magnesium-rich foods and supplements for effective, natural relief of menopause symptoms.
This natural health news is provided by Nutrition Breakthroughs, a publisher of nutrition articles and supplier of effective natural remedies since 2001. Nutrition breakthroughs makes Sleep Minerals II, the effective natural sleep aid with calcium, magnesium, zinc and vitamin D, and also Joints and More, the natural solution for joint relief, aches and pains, stronger hair and nails and more energy.