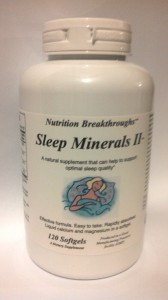 Greetings to you,
This is Jobee Knight from Nutrition Breakthroughs. I would like every customer of Sleep Minerals II to get the full benefits of the product and enjoy the restful, deep sleep they desire.  Here are some tips and advice I've put together over the years, from learning how to coach people to use the product successfully.
1) Some of my customers have asked me with amazement: "What is in this product? Is it really all-natural?" I want you to know that even though the product is effective in helping people get to sleep or get back to sleep in the night, it is made from only natural minerals and vitamins — it's just a potent formula.
Sleep Minerals II is a safe product.  The factory that makes Sleep Minerals II has been certified as having Good Manufacturing Practices (GMP) from the Natural Products Association, and is registered with the U.S. Food and Drug Administration (FDA).
2) Keep the bottle of softgels by your bed, along with a glass or bottle of water.
3) For difficulty falling asleep, take 1 to 2 softgels with water.  To ensure a sound sleep, take the softgel 30 to 45 minutes before bedtime.  If you're sensitive to supplements at all, start with 1.  Even if you decide to take more during the night, it's important to take at least one at the beginning of the night before bedtime, to get the night started out in a good direction.
4) If you wake up during the night and are unable go back to sleep, take an additional half a softgel with water.  To do this, bite one end open and squeeze half out with your teeth.  Drink it down with water or spread it on a cracker or other piece of food.  Save the remainder in a baggie or other container.
5) If you feel drowsy in the morning, take the product further away from the morning-time. For example, if you take it at 4:00 or 5:00 a.m. to go back to sleep, try to take it earlier in the night next time so it's in your system for a longer period prior to the morning.
6) If you are only taking the product before bedtime and have a drowsy feeling in the morning, take it earlier than at bedtime. For example, take it with dinner or an hour or two before bedtime with a snack, rather than 30 minutes before bedtime.
If you get indigestion or gas or your bowels become too loose after taking the product and you are only taking one softgel at a time, take it with some food or a meal to minimize this effect.  If you're taking more than one, reduce the number of softgels you take.  You can also take half a softgel, as described above.  The important thing is to get a dose that works for you.  When changing the amount you take, keep that amount steady for several days to learn if this is the right dose.
7) If you experience an "energetic" effect from the Sleep Minerals, this may be due to a deficiency of calcium or magnesium and is a sign that your body is drinking up the minerals that it is missing.  If this occurs, take the product earlier in the day rather than at bedtime.  This will still assist your better sleep as you will be getting the minerals into your system earlier and it will help overall relaxation.  You can also reduce your dose.
8) It may take days or weeks of consecutive use to see the best results and the longer you use the product, the better the effects will be.  After a span of time, you may need to take less of the Sleep Minerals to get the same effect, as you will have provided more minerals to your body.
9) If you prefer not to swallow the softgels, here are a couple of options for you.  Bite one end open and press the contents onto a cracker or on top of peanut butter, etc. and eat it.  Follow with some water.  Another option is to squeeze the contents into your mouth and drink it down with some water. It's like a creamy paste inside with mixed minerals and a bit of oil, and the flavor is mild. This paste is the essence of what makes the minerals very absorbable.
10) If you are taking any medications in the evening, its best to take them an hour apart from the Sleep Minerals – either an hour before or an hour after.  This is because each thing may have a different effect and its best to keep them separate.
11) Another thing that will help you sleep is taking a walk outside each day or in the evening.  Look around at things and enjoy the view.  This will help your body relax better at night.
12) In addition to insomnia, Sleep Minerals II also provides excellent nutritional support for bone health, osteoporosis, tense muscles, menopausal symptoms, restless leg syndrome, premenstrual syndrome, colon health and heart health.
I look forward to staying in touch with you and to hearing any questions, comments, or beneficial improvements to your sleep.  To order or re-order Sleep Minerals II, visit this page.
Best of health,
Jobee Knight
President
http://www.NutritionBreakthroughs.com
Toll-free: 888-861-0326