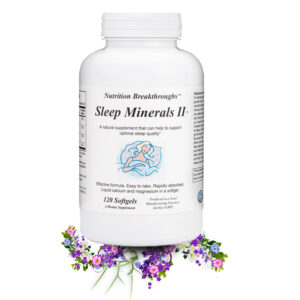 Greetings to you,
This is Jobee from Nutrition Breakthroughs. I would like every customer of Sleep Minerals II to get the full benefits of the product and enjoy the restful, deep sleep they desire.
Here are some tips and advice I've put together over the years, from learning how to coach people to use the product successfully.
Sleep Minerals II is the original drug-free calcium and magnesium formula for better sleep. It calms sleeplessness and insomnia and helps you to relax, fall asleep and sleep deeper.
It's also helpful for heart health, restless leg syndrome, bone strength, menopause insomnia, muscle cramps, premenstrual syndrome and teenage insomnia.  As well as containing calcium and magnesium, Sleep Minerals II contains vitamin D and zinc and is delivered in a softgel form mixed with natural rice bran oil, making it better assimilated and absorbed than tablets or capsules and providing a deeper, longer-lasting sleep.
Richard P. of Parkville Maryland says: "The Sleep Minerals are making quite a difference.  I was regularly waking up at around 3:00 a.m. and after a week or so my sleep improved quite a lot.  I wake once a night to go to the bathroom, but the great thing is, I then fall back asleep and sleep several more hours. This has been a great improvement."
Here are the tips on using Sleep Minerals II:
1) Some of my customers have asked me with amazement: "What is in this product? Is it really all-natural?" I want you to know that even though the product is effective at helping people fall sleep or get back to sleep in the night, it is made from only natural minerals and vitamins — it's just a potent formula.  Sleep Minerals II is a safe product.  The factory that makes it has been certified as having Good Manufacturing Practices (GMP) and all ingredients are sourced in the USA.
2) Keep the bottle of softgels by your bed. For difficulty falling asleep, take 1 softgel with water 30 to 45 minutes before bed.  Go to the bathroom before bed so you're not woken up to go too often during the night.   If you are sensitive to supplements or minerals, start with 1 softgel for several nights. In any case, its best to stay with one softgel for about a week.
If after a week or so you are unable to get to sleep, increase to 2 softgels before bed.  Reduce the dose if you become drowsy during the day or your bowels become too loose.  Use 1 softgel for kids over 10.
3) Gradually building up the minerals in your system is the best approach to gaining better sleep.  It may take days or weeks of use to get the best results.  Some people start noticing good effects after the first or second week of use – some sooner, some later.  Be sure to continue taking the product as consistency is the key.
4) If you are taking the product before bedtime and have a drowsy feeling in the morning or your bowels become too loose, you can take it earlier than at bedtime. For example, take it with dinner or an hour or two before bedtime with a snack.  The food will act as a buffer to help avoid any stomach upset from the minerals.
If one softgel continues to be too much, you can gently bite one end open and squeeze half the contents of a softgel into your mouth or onto some food.  You can also open the softgel with the sharp point of a knife  This is also a good approach if the softgels are too big for you to swallow. Save the other half in a baggie or other container.
This is worth doing if you find you need to, as some people require less.  Even if you're taking just half a softgel, it's important to be consistent with it.  Another option is to take a half before bed and another half if you wake up and can't get back to sleep.  If you find it works for you, a whole one can be taken before bed and another one during the night.  Over time, taking the additional one during the night may not be needed.
5) Note: If someone takes too much calcium for them, the formula may have a stimulating effect and keep them awake.  If this occurs, reduce the amount you're taking and it should have a more relaxing effect.  If you're only taking one, you can bite the end open and take just part of a softgel.
Here are some additional tips I have found to be helpful for improving one's sleep:
* Take a walk outside each day.  Walk around and look at the surroundings and find things you have never noticed before.  It is more of an extroverting activity rather than the exercise factor.  If you look at a computer a lot of the day, find some large things outside to see such as buildings, trees, clouds, etc.  Look for things that are a different size or shape than the things you normally look at inside. This can refresh you and allow relaxation and sleep to occur better.
* Try your best to turn off any electronics an hour before bedtime (computer, TV, texting, etc.) and do something relaxing just before bed.
* If you are taking any medications in the evening, its best to take them an hour or two apart from the Sleep Minerals.  This is because each thing may have a different effect and it works better to keep them separate.
I look forward to staying in touch with you and to hearing any questions, comments, or beneficial improvements to your sleep.  Let me know how you do by emailing me at info@nutritionbreakthroughs.com.
For more information on Sleep Minerals II, visit this page.
Best of health,
Jobee Knight
Nutrition Breakthroughs