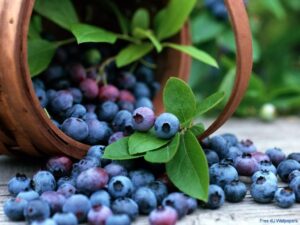 Blue and purple colored berries are delicious treats that provide many health benefits, particularly for the eyes. These fruits get their colorings from one of the plant kingdom's most powerful substances – anthocyanins.
In one recent study, Japanese scientists in Tokyo studied the effects of black currant anthocyanins on work-induced computer eye problems and visual fatigue.
With a dose of 50 milligrams of black currant, there was a significant increased ability of the eyes to adjust to darkness, as well as reduced eye strain and improvement in symptoms of eye fatigue or vision problems. The study participants also described an added bonus of reduced lower back pain..
The bilberry fruit is a close cousin to the famous blueberry. During World War II, British fighter pilots reported improved nighttime vision after eating bilberry jam. One of the most important studies on bilberries was done by researchers at the Human Nutrition Research Center in Boston, MA. The researchers used an enriched extract of bilberry in a test tube along with human retina cells. The cells were exposed to oxygen damage and bilberry was shown to have a profound antioxidant effect – protecting and reversing the damage.
Bilberry removed the stress in eye tissue, which is a strong indicator that it can safeguard the eyes against disorders of aging such as macular degeneration (blurred vision), cataracts (cloudy vision) and glaucoma (eye pressure causing optic nerve damage). The results were published in the Alternative Medicine Review journal.
This news is brought to you by Nutrition Breakthroughs, a provider of natural health articles and effective natural remedies since 2001. Nutrition Breakthroughs makes the effective calcium and magnesium based natural sleep aid Sleep Minerals II, and Joints and More, the natural solution for joint relief, allergies, stronger hair and nails, and more energy.