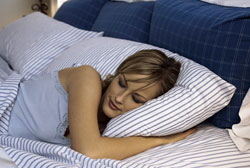 These tips are for those of us who have sweated in our sheets on hot summer nights, unable to sleep.  In an ideal world, we would all have multiple air conditioners throughout our homes or central air conditioning to keep us cool.
In the actual world, not everyone has these, or even if they do, they may be looking for other helpful options in the case of being away from home or traveling to hot climates.
One question to ask would be whether or not any research studies have been done on the effects of body temperature on sleep.  Yes, in fact there have.  Researchers from the Cornel Medical Center in New York did a study showing that a cooler body temperature does indeed help sleep.  They identified the time at which the participant's body temperature fell most sharply. This point almost always occurred in the two hours before sleep began.
So without further adieu, here are the creative tips for staying cool at night and sleeping well.
Tip #1 – People with trouble falling asleep might benefit from taking warm or hot baths about 90 minutes before bedtime, per the New York research study noted above.  When they get out of the bath, their body temperature will drop rapidly, and this should help them to fall asleep faster.  Another option for those with less time is to take a cool shower before bed.
Tip #2 –  Stick to loose clothing of cotton, linen or rayon and avoid synthetic fabrics and wool. Check into 'Wicking Nightwear.' These nightclothes are designed to whisk away sweat and moisture and keep you dry and comfortable while you sleep. Cotton sheets are best, rather than silk or other fabrics, as they stay cooler.
Tip #3 – Keep a thermos of ice water next to the bed and drink as needed.  The ice water can also be poured onto a washcloth and used on the forehead, legs, feet or other areas.  Another option is to put a hot water bottle in the freezer and use it as needed to stay cool.  Feet can set the pace for the rest of the body, so this may be a good place to put a cool washcloth.
Tip #4 – Try a 'Chillow' pillow insert.  The Chillow is filled with water and placed inside the pillowcase, on top of the pillow.  It absorbs and dissipates heat to keep you cooler and doesn't require refrigeration.  It is comfortably cool, rather than cold and it always stays dry.
Tip #5 – Use some smart strategies for box fans and other fans.  Point a fan facing out the window so it will push the hot air outside, leaving cooler air in the room.  A do it yourself air conditioner can be made by putting a shallow pan of ice in front of a fan.  A cooling breeze will be created from the cold water as the ice melts.
Tip #6 – Put a blow-up air bed on the ground with some sheets and blankets and sleep on it.  This puts you closer to the floor where the air is cooler, as hot air rises.  If your bedroom is on a second floor, go the first floor to sleep.
Tip #7 – Keep the oven off and eat light meals that are cooling to the body such as fruit and vegetable salads, pasta salads, cold rice and veggies, or rice cakes with a slice of cheese, etc.  Delicious cold soups can be eaten such as split pea or lentil.
Tip #8 – Calcium is known to cool, soothe and relax the nervous system according to Chinese medicine.  In their system, a food's temperature refers to the heating or cooling effect it has on the body once it has been ingested – rather than the temperature of the food when it is eaten.
For a cooling effect on the body during the night, take a well-absorbed form of calcium and magnesium before bed such as Sleep Minerals II from Nutrition Breakthroughs. This natural sleep remedy contains unique forms of calcium, magnesium, vitamin D and zinc.  It is formulated in a softgel with healthy carrier oils, making it more quickly absorbable than tablets or capsules and providing a deeper, longer-lasting sleep.
Hot flashes and night sweats can be brought on by hot weather, as well as other causes such as hormonal changes, spicy foods or alcohol.  Anita L. of New Caney, Texas says: "I was having hot flashes every 30 minutes to an hour through the night and was so miserable. After about two weeks of taking the Sleep Minerals II, I noticed an incredible difference with my sleep. I have much less interruption from hot flashes, I'm sleeping much better and I'm a lot more comfortable."
Some other healthy advice would be to eat more of the calcium rich foods like cheese, almonds, spinach, parsley, beans, kale and broccoli.
In summary, make use of these tips to stay cool on hot summer nights, and you can also come up with some other similar ones of your own.  You'll be happier the next day that you did!