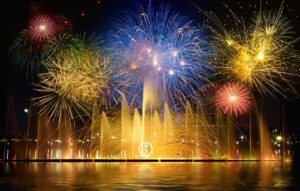 New Years Greetings to you! Here are five New Year health tips for increasing your good health in the New Year:
1. Choose healthy foods: Increase salads, cooked vegetables and raw fruits.  Eat healthy, preferably organic proteins such as grass-fed meat, wild Alaskan salmon, and organic eggs..  Eat wholegrain versions of carbohydrates and drink lots of pure water in between meals.
2. Take a walk each day, or a couple of short walks.  This supports virtually every organ and system in your body to stay strong.  It also detoxifies impurities and ease aches and pains.
Walking is also proven to help good sleep and remedy insomnia.  Scientists suspect that walking helps to set our biological clock into a consistent sleep pattern.
Walking can also help increase "endorphins", which are protein-like chemicals made in the brain that can have a relaxing effect, a pain-relieving effect, and also reduce stress and increase well-being.
Exercise such as walking may also be one of the most effective ways to reduce menopause symptoms such as hot flashes, night sweats, insomnia and heart symptoms, according to a study from the Annals (Journal) of Behavioral Medicine.
3. Take supplements:  Fish oil helps reduce inflammation and supports the eyes and brain; digestive enzymes increase absorption of foods and reduce gas; MSM remedies joint stiffness and arthritis, and Sleep Minerals II provides calcium, magnesium, and vitamin D in some highly usable forms to support good sleep.
4. Reduce stress.  Take breaks to do artistic or creative things that you enjoy.  When communicating with others, express things, and receive communications from people in a positive, upbeat way.
Support for stress can be found in certain vitamins.  The adrenal glands are known as the "stress glands".  Vitamin B-5, also known as pantothenic acid, is used by the adrenal gland as a key component to manufacture its hormones.   A deficiency of
B-5 can result in impaired adrenal function and more physical and mental stress.
Regarding vitamin C, the highest amounts of vitamin C in the body are found in the adrenals and this vitamin is used to make all of the various adrenal hormones. When one is faced with stress, vitamin C is rapidly used up.
5. Look to the future.  We've all done some great things in this year just past.  Let's
acknowledge our best achievements and take pride in them, and then turn our sights toward the year to come.  It's a new canvas to paint our dreams on, so take out those brushes and create some masterpieces worthy of your signature!
Yours in good health,
Jobee Knight
Nutrition Breakthroughs
Maker of Sleep Minerals II and Provider of Natural Health Info
Toll-free U.S. (888) 861-0326
International (818) 913-4308