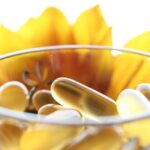 Greetings to you,
The word "metabolic" refers to the processes in plants and animals by which food is changed into energy or used to make cells and tissues.  A "syndrome" is a group of signs or symptoms that together indicate a particular disease or condition.
So, "metabolic syndrome" is a group of risk areas that increase the likelihood of developing diabetes, heart disease or stroke. These include high blood sugar levels, increased blood pressure, excess stomach fat and high cholesterol.
Fish and omega-3 foods for metabolic syndrome
Omega 3 fatty acids are a type of fat that we must get from our diet as the body can't produce them on its own. This classifies them as "essential" fatty acids.  These include wild-caught fatty fish like salmon, sardines, mackerel and oysters, as well as fish oils, walnuts, flaxseeds, grass-fed beef and leafy greens. Omega 3 fats assist in reducing blood pressure, supporting a healthy heart and strengthening the eyes and brain.
The Journal of Physiology published a study on omega 3 fatty acids.  They reviewed the evidence on the effectiveness of eating omega 3 fish and fish oil supplements for the prevention and treatment of metabolic syndrome.  They found that supplementing with Omega 3 sources improved obesity, insulin levels, high blood pressure and high cholesterol.  They commented that the anti-inflammatory aspects of these fatty acids also offer good protection for the heart.
Flaxseeds for metabolic syndrome
Phytotherapy is a word that comes from the Greek word "phyton" meaning "plant", and therapeuein" meaning "to take care of, to heal." This is the term used to describe medical herbalism.
A study in the magazine "Phytotherapy Research" discovered that flaxseeds are a good remedy for metabolic syndrome by helping to reverse high blood sugar and obesity.  In the study, the participant's body weight, waist circumference, and body mass index all had significantly greater reductions in the flaxseed group.  The researchers concluded that co-administration of flaxseed with lifestyle modifications is more effective than lifestyle modification alone in management of metabolic syndrome.
Vegetables and fruits for metabolic syndrome

In a study of Chinese adults, it was discovered that those with adequate vegetable and fruit intake had the lowest risk of metabolic syndrome.  Eating a good amount of these foods was significantly associated with reduced risk among adult residents of China.
Healthy vegetables to eat include dark leafy greens such as lettuce, kale and spinach, as well as avocado, broccoli, cauliflower, carrots, olives, sweet potatoes, cabbage and others that are enjoyable.  Avocados in particular have been found to be related to improved overall diet quality, a healthy nutrient intake, and reduced risk of metabolic syndrome
Good fruits to eat include berries, applies, grapes, apples, pears and others.  Due to the natural sugars in fruit, It's good to keep fruit in moderation and eat at least two or three times as many vegetables as fruit.
Magnesium for metabolic syndrome
A study from the journal "Diabetic Medicine" reports on the role of magnesium deficiency in metabolic syndrome.  They found that magnesium acts through many mechanisms in the body to help prevent this group of health disorders.  Magnesium has a positive effect on glucose metabolism and insulin, as well as beneficial effects on fat metabolism.
The authors of the study explain that magnesium actively promotes muscle relaxation and offsets calcium-related muscle contractions. This mechanism may explain the hypertension (high blood pressure) in metabolic syndrome that's found in populations with magnesium deficiency.  (In supplements, calcium and magnesium should be taken together as they balance each other).
Dietary magnesium prevents chronic inflammation, a state that sets the stage for metabolic syndrome and its consequences.  Magnesium does this by preventing the activation of inflammatory changes.  The researchers concluded that the amount of magnesium a person consumes is directly related to the presence of metabolic syndrome or its absence. Good food sources of magnesium include almonds, beans, peas, seeds, banana, avocado, leafy greens and whole grains.
This natural health news is provided by Nutrition Breakthroughs, a publisher of nutrition articles and a supplier of natural remedies since 2002.  Nutrition Breakthroughs makes Sleep Minerals II, the effective natural sleep aid with calcium, magnesium, zinc and vitamin D.
The ingredients in Sleep Minerals II can be helpful for a variety of health conditions.  I.C. of Ontario, Canada says: "I have diabetes, a thyroid condition, arthritis and other issues. The Sleep Minerals helps me sleep and gives me the minerals I need.  I also have arthritis throughout my whole body and the minerals help this a lot.  In fact, Sleep Minerals lessens all of my symptoms greatly and has helped me to go into remission."
For more information, visit the Sleep Minerals II page.