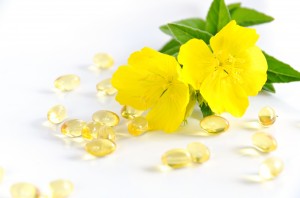 Evening primrose oil comes from the seeds of a yellow wildflower that grows throughout the United States.
In a study from the Archives of Gynecology and Obstetrics, researchers tested the effect of evening primrose oil on 56 menopausal women aged 45 to 59 with hot flashes.
The women were given two capsules per day of evening primrose oil (500 mg per capsule) for a continuous 6 weeks.  The results showed there was a 42% improvement in the severity of hot flashes, as well as beneficial improvements in their life activities.
Mineral supplements such as magnesium and calcium are also of good benefit to menopausal women with hot flashes and night sweats.  One example is a 2011 study from the Virginia Commonwealth University Health System.  Women with at least 14 hot flashes a week received 400 milligrams of magnesium oxide for 4 weeks, increasing to 800 mg. per day if needed.  At the end of the study, the magnesium supplements had reduced their frequency of hot flashes from 52 to 28 per week, a 41.4% reduction.  Fatigue, sweating, and distress were also significantly reduced.
One insomnia remedy that also helps with hot flashes and night sweats and is increasing in popularity among women in menopause is Sleep Minerals II from Nutrition Breakthroughs.  This natural sleep aid contains highly absorbable forms of calcium and magnesium, the best minerals for sleeplessness and insomnia, as well as for heart health, restless legs syndrome, bone strength, and menopause insomnia.
Anita L. of New Caney, Texas says: "I was having hot flashes every 30 minutes to an hour through the night and was so miserable.  After about two weeks of taking the Sleep Minerals, I noticed an incredible difference with my sleep.  I have much less interruption from flashes, I'm sleeping much better, and I'm a lot more comfortable."
Valerie H. of Santa Clarita, California says: "I had such severe menopause insomnia it took me hours to fall asleep even though I was extremely tired.  My legs also had crawling and tingling feelings at night. I got the Sleep Minerals and after several days, it started to work really well. I fall asleep now within 20 minutes and no more restless legs."
Natural menopause remedies are a healthier option for women with hot flashes, night sweats and insomnia.  For more information, visit the Sleep Minerals II page.