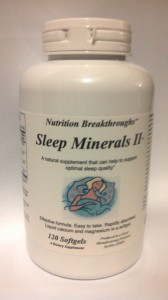 Sleep Minerals II is an effective natural sleep aid from Nutrition Breakthroughs.  It is the original drug-free, mineral-based formula for relaxation and better sleep.
Sleep Minerals II contains powerful forms of the best known minerals for relaxation and sleep — calcium and magnesium, in combination with vitamin D and zinc.  The ingredients are formulated in a softgel with healthy oils, making them more quickly absorbable than tablets or capsules and providing a deeper, longer-lasting sleep.
Newest Sleep Minerals II Reviews:
Carxela says: "My son is not using prescription meds any more.  He has suffered from sleep problems, and Sleep Minerals II has helped him sleep better while getting away from using the prescription medications that he was taking.  My son has been taking this product for about 8 months now."
Richard P. of Parkville, Maryland says: "The Sleep Minerals are making quite a difference.  I was regularly waking at around 3:00 a.m. and after a few days use my sleep improved quite a lot.  I wake once a night to go to the bathroom, but the great thing is, I then fall back asleep and sleep several more hours.  This has been a great improvement."
Sadie D. from The Netherlands says: "I am ever so grateful that I discovered Sleep Minerals II after suffering with premenopause and now the real menopausal insomnia.  I felt like I was slowly losing my mind due to the continual lack of sleep.  I can't express the relief of getting a good night's sleep and being able to function properly."
Anne B. of El Dorado Hills, California says: "We find the Sleep Minerals very helpful for my husbands restless leg syndrome. He does not do well on medications and the drug that the doctor prescribed him for this was full of bad side effects. Out of pure desperation, I researched the internet and decided to try Sleep Minerals. We are both now getting a good night's sleep.  Bob continues to sleep much better and with very little if any movement in his legs."
Chris M. of the United Kingdom says: "I take Sleep Minerals II before bed every night and within 20 minutes I am asleep. The difference in the quality of my sleep and the ease with which I get to sleep using this product is monumental. I have stopped obsessing about sleep or dreading bedtime — I just take a capsule and drift off.  If I stop taking them, within a week my sleep starts to lighten, the quality of my sleep diminishes, and my old insomniac patterns reappear."
Valerie H. of Santa Clarita, California says: "I had such severe menopause insomnia it took me hours to fall asleep even though I was extremely tired.  My legs also had crawling and tingling feelings at night. I got the Sleep Minerals and after a few days, it started to work really well. I fall asleep now within 20 minutes and no more restless legs."
For more information, visit the Sleep Minerals II page.
Kimberly B. of Troy, Michigan says: "I have been taking Sleep Minerals II for about a month now. I have tried everything out there and this supplement is amazing. I have suffered with insomnia for 2 1/2 years. I have also had restless leg syndrome my entire life and this is the first relief I've ever had…gone for a month now."
L.R.C. of Massachusetts says:  "I had become dependent on sleeping drugs and couldn't sleep without them. Now I take the Sleep Minerals before bed and I can sleep through the whole night without drugs. I'm also able to easily fall back to sleep if I do have to get up.  Another benefit is this helps alleviate my chronic fatigue and aches and pains."
Doctor P. P. of Houston, Texas says: "I had developed sleeping problems and took two different sleeping medications over the course of several weeks.  When I discontinued them the insomnia came back even worse. I literally got about 20 hours of sleep in 6 weeks time. Sleep Minerals II was just what I needed. I've been taking it for a couple weeks and getting many hours of sleep a night. As a doctor I would definitely avoid prescribing sleeping drugs — I would recommend Sleep Minerals II."
For more information, visit the Sleep Minerals II page.