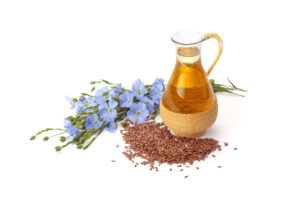 One natural remedy for hot flashes has been making headlines lately. Mayo Clinic breast health specialist
Sandhya Pruthi, M.D., conducted a six week study on flaxseed for relief of hot flashes.
The 29 participants in Mayo's clinical trial were women with hot flashes who did not want to take estrogen because of increased risk of breast cancer.
The study gave them six weeks of flaxseed therapy, consisting of 40 grams (one and a half ounces) of crushed flaxseed eaten daily. The result was that the frequency of hot flashes decreased fifty percent. Participants also reported improvements in mood, joint or muscle pain, chills, and sweating. The flaxseed benefits gave a significant improvement in their health and quality of life. Dr. Pruthi said: "We hope to find more effective nonhormonal options to assist women, and flaxseed looks promising."
Calcium and magnesium have also been shown effective for relief of hot flashes and night sweats.  One supplement that's popular with women, men and teens is Sleep Minerals II from Nutrition Breakthroughs. This contains highly absorbable forms of calcium and magnesium, along with vitamin D and zinc. The ingredients are delivered in a softgel form with healthy carrier oils, making them more easily assimilated than capsules or tablets and providing a deeper and longer-lasting sleep.
Wendy R. of Honolulu, Hawaii says: "My friends know that I've had insomnia for a very long time. Surprisingly, I received the Sleep Minerals II and took it and I actually slept. This thing really works. I wanted to say, its funny, but people know I have insomnia and once in a while a co-worker will ask me how I slept. In the past, if I ever got a good nights sleep I'd say "I slept like a baby", but that's the wrong analogy. Those little guys get up every two hours. I am actually beginning to sleep like an adult — a much-rested adult."
Flaxseed benefits include significant hot flash relief, and calcium and magnesium can also work wonders for relieving hot flashes, night sweats and insomnia.
For more information on Sleep Minerals II visit this page.