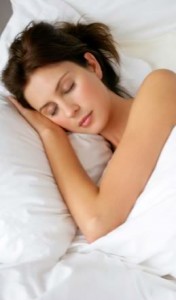 Greetings to you,
It's Jobee Knight from Nutrition Breakthroughs, maker of Sleep Minerals II. Over the years of helping people with their sleep, I have discovered several useful tips that can help make a big difference and increase the quality and quantity of one's sleep.
#1 – We live in an electronics-oriented world, from computers, to cell phones, to texting, to reading books on tablets, etc. These tools help increase our efficiency and ability to work and learn and communicate, but when it comes to getting good sleep, they can interfere.
One study from a university in New York found that exposure to light from electronic displays can suppress melatonin by about 22 percent. Melatonin is a hormone made in the brain that helps to regulate the sleep/wake cycle. It is present in higher amounts at night time. It's best to shut off all electronic devices at least one hour before bedtime and do some relaxing things before bed.
#2 – Go outside and take a walk each day. The purpose of this is to vary your attention and focus from the usual indoor tasks. The daily tasks one does are usually a certain distance from the eyes. It's a great help to go out and look at things that are farther away and are larger than what you look at inside. Look at trees, buildings, cars, houses, clouds, etc. and notice things you have never seen before, each time you walk.
This expands one's attention and helps the body to rest better at night. It's not necessarily the exercise factor. It helps to give one new points of view. Supporting this are studies from the University of Arizona which found that walking more than six blocks a day at a normal pace significantly improves sleep at night.
#3 – When taking natural sleep aids, its good to remember that each person is a unique individual and doing some experimenting with the dosage can be instrumental in achieving success. At first, err on the side of taking too little rather than too much. Another thing to keep in mind is that natural aids are not drugs and they may not work immediately and fully with the first dose or even the first few doses. It can take up to a couple weeks to see the best results.
For example with Sleep Minerals II made by Nutrition Breakthroughs, the calcium and magnesium are formulated in a softgel with natural oils. This makes the minerals very powerful as a sleep remedy.  It can help with frequent awakenings, teenage insomnia, menopause insomnia, restless leg syndrome and chronic sleeplessness.
James F. Balch, M.D., author of Prescription for Nutritional Healing, writes: "A lack of the nutrients calcium and magnesium will cause you to wake up after a few hours and not be able to return to sleep."
Most people do fine with one Sleep Minerals softgel taken about a half hour before bed. But for others, one is too much and the softgel needs to be opened at one end so that less than one can be taken out and used. If a person takes too much calcium for their body, it can have an energizing effect rather than a relaxing one. Even when less than one is used, give it a trial of at least a couple weeks.
#4 – Sometimes hunger can strike at 2:00 or 3:00 in the morning and keep one awake. If this occurs, eat something with high protein such as turkey. Keep it in a baggie next to your bed or in a small cooler. Turkey contains tryptophan, which is an amino acid (a component of protein) that has a calming effect. Some types of turkey to try are lunchmeat, turkey burgers, turkey meat from legs or thighs, etc. The brain is able to convert tryptophan into melatonin. Often just a few bites are enough to help get one back to sleep, but eat until the hunger is handled.
As a note, concentrated tryptophan capsules are not recommended as they can create extreme grogginess in the morning and take quite a while to wear off.
A few small changes in one's life can go a long way towards remedying insomnia and giving oneself the gift of a great night's sleep.
To your good health,
Jobee Knight
President
Nutrition Breakthroughs, Maker of Sleep Minerals II
Toll-free (888) 861-0326