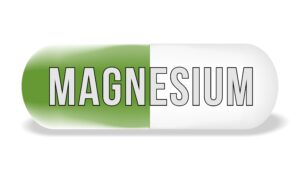 Article Source: Agricultural Research Service
Too little magnesium in one's diet will make the body work harder.  Good sources of magnesium include bran muffins, pumpkin seeds, barley, buckwheat flour, yogurt, trail mix, halibut steaks, garbanzo beans, lima beans and spinach.
Most people think of calcium and phosphorus as the most important dietary components for bone health. But magnesium also plays an important role. It is involved in hundreds of biochemical reactions, many of which help keep not only bones strong, but the heart rhythm healthy and the nervous system functioning smoothly.
A study by the Agricultural Research Service of the U.S. Dept. of Agriculture reveals important findings on the effects of depleted body magnesium levels on energy metabolism. Specifically, it showed that inadequate magnesium is associated with a need for increased oxygen during exercise. They found that during moderate activity, those with low magnesium levels in muscle are likely to use more energy—and therefore to tire more quickly—than those with adequate levels.
After consuming the low-magnesium diet, volunteers showed a significant overall loss of magnesium. They had lowered muscle levels of magnesium, and their red blood cells were at the low end of the normal range.
The data shows that during the low-magnesium-status phase, the postmenopausal volunteers used more oxygen during physical activity, and their heart rates increased by about 10 beats per minute. "When the volunteers were low in magnesium, they needed more energy and more oxygen to do low-level activities than when they were in adequate-magnesium status," says Lukaski, one of the study authors.
These findings are consistent with other studies showing that too little magnesium makes the body work harder. "The effects are likely to occur in individuals with low magnesium, regardless of whether the person is athletic or sedentary," says Lukaski. "That means that athletes wouldn't be able to work or train as long as they would if they had better magnesium levels. People need to eat adequate magnesium to make sure their hearts and muscles are healthy enough to meet the demands of daily living."
A note from the blog author Nutrition Breakthroughs: Magnesium is also known to be an effective natural remedy for sleeplessness and insomnia.  In a study from the University of Medical Sciences in Iran, research was done with 46 adults who were experiencing insomnia.  Taking two magnesium tablets twice a day resulted in significant increases in sleep time and reduced cortisol levels in the body, which is a stress hormone that can keep people awake. In another research study from the Human Nutrition Research Center of the U.S. Dept. of Agriculture, scientists found that a high magnesium diet is associated with deeper, less interrupted sleep.
This news is brought to you by Nutrition Breakthroughs and its natural sleep aid Sleep Minerals II.  Sleep Minerals II is the original magnesium and calcium based sleep aid and is known for soothing even the worst insomnia.  It helps everyone from teenagers, to women with menopause symptoms, to older seniors, to get a good night's sleep.
Tammy M. of Meridian, Idaho says: "I was plagued with insomnia for five years and desperate for a breakthrough. Nothing has helped me more than Sleep Minerals — I'm so sold on them I could go door to door promoting them.  I'm 60 years old and have never slept so soundly."
For more information on Sleep Minerals II visit this page.