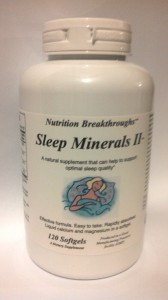 Sleeplessness is a big problem in America. According to the National Sleep Foundation (NSF), almost six out of ten Americans report having insomnia at least a few nights weekly. Additionally, in a recent NSF poll they found that as many as 25 percent of the people in the U.S. use medications in an effort to combat insomnia and get some sleep.
The use of prescription sleeping drugs, such as Ambien, Lunesta and Sonata, has been steadily increasing. Global sales for all sleeping pills, called hypnotics, will top $5 billion in the next several years. Most sleeping pills, especially when taken over long periods of time, stay in the bloodstream and give a hangover effect the next day and beyond. They impair memory, reduce performance on the job and at home, and contribute to machine and car accidents.
From a nutritional perspective, several research studies have shown certain minerals to be effective alternatives to help people fall asleep and stay asleep through the night. James F. Balch, M.D., author of Prescription for Nutritional Healing, writes: "A lack of the nutrients calcium and magnesium will cause you to wake up after a few hours and not be able to return to sleep."
The pioneering nutritionist Adelle Davis discusses minerals as natural insomnia remedies in her book Let's Get Well. She says: "A calcium deficiency often shows itself by insomnia, another form of an inability to relax. The harm done by sleeping tablets, to say nothing of the billions of dollars spent on them, could largely be avoided if the calcium intake were adequate."
Regarding magnesium, Davis says: "Hundreds of recent studies indicate that almost everyone, especially ill persons, is deficient in magnesium. Probably no other single deficiency is so responsible for the widespread use of tranquilizers."
Calcium is directly related to our cycles of sleep. In one study, published in the European Neurology Journal, researchers found that calcium levels in the body are higher during some of the deepest levels of sleep, such as the rapid eye movement (REM) phase. The study concluded that disturbances in sleep, especially the absence of REM deep sleep or disturbed REM sleep, are related to a calcium deficiency. Restoration to the normal course of sleep was achieved following the normalization of the blood calcium level.
In magnesium deficiency, chronic insomnia is one of the main, central symptoms. Sleep is usually agitated with frequent nighttime awakenings. On the other hand, a high magnesium diet has been found to be associated with deeper, less interrupted sleep. This was proven in a study done by James Penland at the Human Nutrition Research Center in North Dakota. The study was titled "Effects of trace element nutrition on sleep patterns in adult women."
It's important to note that a balanced ratio of calcium and magnesium is beneficial to overall health, and that these two minerals should be taken together in a 2 to 1 ratio for best results (twice as much calcium as magnesium).
Jobee Knight, a nutritional researcher and founder of www.NutritionBreakthroughs.com in Glendale, CA., is someone who fought her own battle against sleeplessness and insomnia. She decided to put her background to use by searching out effective natural ingredients for relaxation and deeper sleep.
The result was Sleep Minerals II, a natural sleep aid that contains highly absorbable forms of calcium and magnesium, the best minerals for insomnia, as well as for heart health, restless legs syndrome, bone strength and menopause insomnia. The formula also includes vitamin D and zinc and is delivered in a softgel form with healthy carrier oils, making it more quickly assimilated than tablets or capsules and providing a better, longer-lasting sleep.
Alex R. of Ramseur, North Carolina says: "Sleep Minerals II has been a blessing for me. It has given me the opportunity to withdraw from a highly addictive sleep medication over time, and has allowed me to sleep while going through this most difficult ordeal. What's great about it is it doesn't lose its effectiveness, which is something that happens with sleep medications. I am most thankful for this product."
Sleeping drugs can wreak havoc on one's health and well-being. The right blend of natural minerals can be an effective natural insomnia remedy that helps the sleepless get some good rest.
For more information on Sleep Minerals II, visit https://www.nutritionbreakthroughs.com/sleep-minerals-ii-effective-natural-sleep-aid-for-insomnia-nutrition-breakthroughs/