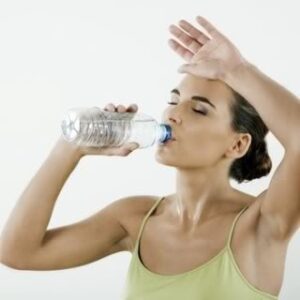 A team of researchers at the Stanford University School of Medicine in California recently embarked upon a study to help determine the causes of insomnia among premenopausal and postmenopausal women.
The team conducted phone interviews with 982 women and gathered information about their sleep history, frequency of hot flashes, and overall health. They found that 51% of postmenopausal women suffer with hot flashes and that 79% of premenopausal women have them. Among the women with the most intense hot flashes (based on their severity and frequency), 81% of them experienced sleeplessness and insomnia.
The lead researcher said: "In this paper, we have observed without any doubt and in a significant way that hot flashes are associated with insomnia. This is the first observational study showing the link between insomnia and hot flashes while controlling for other factors that could account for insomnia in women."
Night sweats and hot flashes can become a form of insomnia in which a woman can wake up sweating and be unable to sleep. Regarding mineral deficiency at the time of menopause, the pioneering nutritionist Adelle Davis says in her book 'Let's Get Well' that: "The amount of calcium in a woman's blood parallels the activity of the ovaries. During the menopause, the lack of ovarian hormones (estrogen and progesterone) can cause severe calcium deficiency symptoms to occur, including irritability, hot flashes, night sweats, leg cramps, and insomnia. These problems can be easily overcome if the intakes of calcium, magnesium, and vitamin D are all generously increased and are well absorbed."
Calcium is directly related to our cycles of sleep. In one study published in the European Neurology Journal, researchers found that calcium levels in the body are higher during some of the deepest levels of sleep, such as the rapid eye movement (REM) phase. The study concluded that disturbances in sleep, especially the absence of REM deep sleep or disturbed REM sleep, are related to a calcium deficiency. Restoration to the normal course of sleep was achieved following the normalization of the blood calcium level.
Regarding the use of vitamin D as an insomnia remedy, Researchers at the East Texas Medical Center recently discovered that vitamin D helps to regulate the sleep-wake cycle.  They found a definite link between vitamin D deficiency and the current epidemic of sleep disorders.  During the research, the authors discovered the presence of high concentrations of vitamin D "receiving sites" or "receptors" in those areas of the brain that are related to the onset and maintenance of sleep.
One natural insomnia remedy gaining in popularity with women is Sleep Minerals II from Nutrition Breakthroughs. Sleep Minerals II contains highly absorbable forms of calcium and magnesium, the best minerals for sleeplessness and insomnia, heart health, restless legs syndrome and bone strength. The formula also includes vitamin D and zinc and is delivered in a softgel form with healthy carrier oils. The mixture of oils and minerals makes it more quickly assimilated than tablets or capsules and provides a deeper, longer-lasting sleep.
Anita L. of New Caney, Texas says: "I was having hot flashes every 30 minutes to an hour through the night and was so miserable. After about two weeks of taking the Sleep Minerals, I noticed an incredible difference with my sleep. I have much less interruption from hot flashes, I'm sleeping much better, and I'm a lot more comfortable."
The Stanford research study shows a definite link between hot flashes and insomnia and suggests that if a woman can address and remedy her hot flashes, she will also likely improve her insomnia.
For more information on Sleep Minerals II visit this page.