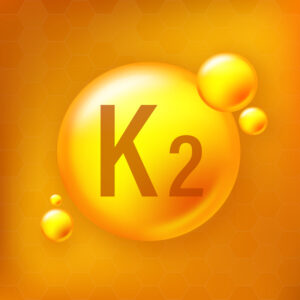 ***************************************
Shared by Nutrition Breakthroughs,
maker of the effective calcium and magnesium based sleep aid Sleep Minerals II
***************************************

In the quest for optimal health and vitality, we often hear about the importance of vitamins and minerals. One such nutrient that doesn't always get the recognition it deserves is Vitamin K2.
This often-overlooked vitamin plays a crucial role in several aspects of our health, from heart and bone health to pregnancy support. In this article, we'll explore the fascinating world of Vitamin K2, from its sources to its remarkable benefits.
The Difference Between Vitamin K1 and K2
Vitamin K1, or phylloquinone, primarily plays a role in blood clotting. It's abundant in leafy greens like kale, spinach, and broccoli.
On the other hand, Vitamin K2, also known as menaquinone, serves a more diverse range of functions. Unlike K1, it doesn't accumulate in the liver but circulates throughout the body.
You can find Vitamin K2 in fermented foods like natto (fermented soybeans), grass-fed cheese and butter, kefir, sauerkraut, beef liver, and egg yolk.  Additionally, it's synthesized by the beneficial bacteria in our gut.
The Specific Health Benefits of Vitamin K2
Vitamin K2 offers a treasure trove of benefits:
Heart Health: Numerous studies have linked Vitamin K2 to a reduced risk of cardiovascular disease. This vital nutrient prevents calcium from accumulating in the arteries, reducing artery calcification, and supporting healthy blood flow and heart function. A study published in the Journal of Nutrition found that a higher Vitamin K2 intake correlated with a decreased risk of coronary heart disease.
Bone Health: Vitamin K2 is a game-changer when it comes to bone metabolism. It activates osteocalcin, a protein responsible for binding calcium to the bone matrix, thereby promoting stronger and healthier bones. Clinical trials have demonstrated that Vitamin K2 supplementation can reduce bone loss and fracture risk. A study in the American Journal of Clinical Nutrition revealed that Vitamin K2 enhanced bone mineral density and lowered the risk of hip fractures in older women.
Pregnancy: Vitamin K2 plays a pivotal role during pregnancy by directing calcium to the developing baby's bones and teeth. Ensuring an adequate intake of Vitamin K2 is associated with a lower risk of pregnancy complications and developmental issues in infants.
Brain Health: Emerging research suggests that Vitamin K2 is important for brain health as it helps prevent the calcification of blood vessels in the brain. This may contribute to maintaining cognitive function as we age.
Dental Health: Dental health is another realm where Vitamin K2 shows promise. It promotes the formation of dentin, the layer beneath enamel, potentially reducing the risk of cavities.
Signs of a Vitamin K2 Deficiency
Here are some of the key signs of a vitamin K2 deficiency:
Poor bone health, osteoporosis, or fractures
Easy bruising or bleeding
Cardiovascular issues
Dental problems
Unusual and prolonged bleeding after injury or surgery
Prescription Drugs that Can Interfere with Vitamin K2 Effects and Absorption
Certain prescription medications, such as blood thinners (e.g., warfarin), can interfere with Vitamin K2's effects. These drugs work by inhibiting the function of Vitamin K, which is necessary for blood clotting. Patients taking such medications should work with their doctor in order to manage their Vitamin K2 intake and avoid any adverse effects.
To wrap it up, while Vitamin K2 might not be a household name, its importance in maintaining our good health is key!