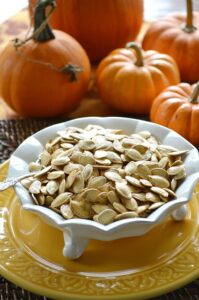 Pumpkin Power: Pumpkin Seeds Benefits for Good Health

Pumpkins are a sign that fall has arrived, and while they make fantastic decorations, they're also packed with magnificent and surprising health benefits.
From their delicious flesh to the often-overlooked seeds, pumpkins offer a cornucopia of nutrients that can boost various aspects of your well-being.
Let's dive into the vibrant world of pumpkin power and explore how this cheerful fruit (yes, it's technically a fruit!) can enhance your health.
Pumpkin Seeds for a Happy Heart
Pumpkin seeds, also known as pepitas, are a nutritional powerhouse of pumpkin seeds benefits. These tiny wonders are bursting with heart-healthy nutrients. They contain magnesium, potassium, and heart-friendly fats that can help regulate blood pressure and reduce the risk of heart disease. According to a study published in the American Journal of Clinical Nutrition, a diet rich in magnesium has been associated with a decreased risk of stroke and heart attacks.
Elevate Mood and Sleep with Tryptophan
Do you struggle with mood swings or sleepless nights? Pumpkin seeds could be your secret weapon. These seeds are a great source of tryptophan, an amino acid that the body converts into serotonin – the feel-good substance made in the brain. Not only does serotonin improve your mood, but it also plays a role in regulating your sleep cycle. So, a handful of pumpkin seeds before bed might just be the natural remedy you've been searching for.
Pumpkin Seeds Are High In Magnesium – A Proven Remedy for Insomnia

Not only are tasty pumpkin seeds high in the amino acid tryptophan, they are also particularly rich in the mineral magnesium, so they provide a double remedy against insomnia.
Studies in the Journal of Research in Medical Sciences found that supplementation with magnesium brought about statistically significant increases in sleep time, better sleep efficiency with fewer awakenings, higher amounts of melatonin in the body, quicker times to fall asleep, reduction of stress hormones, and less early morning awakenings.
Nourish Your Vision
Pumpkins are renowned for their vibrant orange hue, which is thanks to the high levels of beta-carotene, a precursor to vitamin A.  Diets rich in beta-carotene has been linked to a reduced risk of age-related macular degeneration, according to the Journal of Ophthalmology. So, if you want to keep those peepers in tip-top shape, don't forget to indulge in pumpkin dishes.
Healthy Skin, Thanks to Pumpkin
Let's face it: we all want to maintain youthful, radiant skin. Pumpkin contains healthy plant chemicals like beta-carotene and vitamins C and E, which protect your skin from the harmful effects of UV rays and pollution. These antioxidants also promote collagen production, giving you firmer, healthier skin. To reap the benefits, make some pumpkin soup, enjoy some baked pumpkin, or create a pumpkin smoothie — some great ways to nourish and support your skin.
Support Weight Management with Fiber
Struggling to shed those extra pounds? Pumpkins can help with that, too. They are an excellent source of dietary fiber, which keeps you feeling full for longer and curbs those nagging cravings. The fiber in pumpkin may also help stabilize blood sugar levels, as suggested by research published in the Journal Nutrients, which is good news for anyone aiming to manage their weight.
Boost Immune System Resilience
As we enter the colder months, we all want to stay healthy and avoid those nasty colds and flu. Pumpkins contain vitamin C, a well-known immune system booster. In a study published in the Journal Nutrients, vitamin C was shown to reduce the severity and duration of common cold symptoms.
Pumpkins for Post-Workout Recovery
After exercise workouts, your body needs to recover, and pumpkin seeds can play a crucial role. They are loaded with protein, magnesium, and potassium, which aid in muscle recovery and help prevent cramps. So, make pumpkin seeds benefits part of your go-to post-workout snack.
In conclusion, pumpkins and their seeds offer a delightful array of health benefits. From heart health to mood elevation, vision protection, skin nourishment, weight management, immune system support, and post-workout recovery, the humble pumpkin can do wonders for your well-being. It's not just a symbol of fall; it's a symbol of health and vitality!
So, whether you're carving pumpkins for Halloween, making a comforting pumpkin soup, or munching on roasted pumpkin seeds, you're not just indulging in delicious treats – you're also giving your health a colorful boost.
This health news is shared by Nutrition Breakthroughs, maker of the original calcium and magnesium based sleep aid Sleep Minerals II, and Joints and More, a natural supplement for joint relief, less aches and pains, and more energy.
Tammy M. of Meridian, Idaho says: "I was plagued with insomnia for five years and desperate for a breakthrough. Nothing has helped me more than Sleep Minerals — I'm so sold on them I could go door to door promoting them. I'm 60 years old and have never slept so soundly."