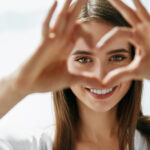 Greetings to you,
Would you like to have healthier eyes and improved vision? In the video below you will discover some of the best vitamins and supplements for improving eyesight naturally.
Alongside vitamins beneficial for eye health, nature offers an abundance of other remedies and nutrient-rich foods that contribute to sharper vision.  One such remedy is the ancient practice of eye exercises.
These exercises help strengthen eye muscles and improve focus. Simple techniques like palming, where you cover your eyes with your palms and relax, or shifting focus from near to far objects can help reduce eye strain and enhance visual acuity. Also, applying warm compresses to your eyes can soothe dryness and alleviate eye fatigue, promoting overall eye health.
One food that's famous for enhancing eye health is carrots. Rich in beta-carotene, carrots are known for their role in promoting healthy eyesight. Beta-carotene is converted into vitamin A in the body, which is essential for good vision. Other orange-colored fruits and vegetables like sweet potatoes and apricots also contain high levels of beta-carotene and can be beneficial for eye health
Eggs are also a nutrient-dense food that offers many benefits for eye health. They are a good source of lutein and zeaxanthin, two substances that accumulate in the retina and help protect against age-related macular degeneration and cataracts. Additionally, eggs contain vitamin E, which has antioxidant properties and contributes to overall eye health.
Magnesium is a mineral that is used in over 300 actions in the body, and one of them is supporting eye health.  More details on magnesium benefits for the eyes can be found in the video below.
Enjoy the video on the best vitamins for improving eyesight naturally and may your vision only get better and better!
This health news is shared with you by Nutrition Breakthroughs, maker of the original calcium and magnesium based sleep aid Sleep Minerals II, and also Joints and More, for joint relief, stronger hair and nails, and more energy.