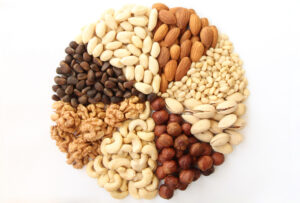 Greetings to you,
We've made this short and informative two-minute video (below) for you on the best nuts to eat for good sleep.  Take a peek at it below.
There are certain nuts that contain high amounts of both magnesium and melatonin.  One study on magnesium found that it "brought about statistically significant increases in sleep time and a significant reduction in early morning awakenings."
Regarding nuts specifically, studies in the Nutrition Journal (2005) and Nutrients Journal (2017) found that nuts contain good amounts of many components that are known to enhance a deep, restful sleep.
This video was created by Nutrition Breakthroughs, maker of the original calcium and magnesium based sleep aid Sleep Minerals II. Feel free to share the video with anyone who would like to enjoy a better night's sleep.  And sleep well!