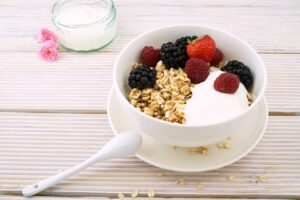 Greetings to you,
Can yogurt actually help with better sleep, weight loss, bone strength and immunity?  Read on to find out!
Yogurt's healthy bacteria are known as probiotics. The benefits of yogurt include helping with good sleep, assisting weight loss, improving digestion, reducing risk of diabetes, lowering cholesterol and stimulating a stronger immune system.  Here are some of the studies:
Yogurt for Stomach Health
One study from the American Journal of Clinical Nutrition found that consuming yogurt or the beneficial bacteria from it, has promising health benefits for many conditions and increases the body's immunity and ability to fight off infections. A variety of conditions were shown to improve including constipation, diarrhea, inflammatory bowel disease, candida, stomach bacteria infections and allergies.
Bone Strength from Yogurt
A study on yogurt was published in the journal "Archives of Osteoporosis". It reviewed the ability of yogurt to strengthen bones and found that milk and yogurt are the best dairy choices for increasing bone mineral density in the hip.
Yogurt and Good Sleep
Yogurt is also a great choice to eat in the evening to help with sleep due to the high amount of calcium it contains. The beneficial bacteria in yogurt has also been studied for its ability to create a deeper, longer-lasting sleep.
A 2017 study from the journal "Beneficial Microbes" tested the benefits of yogurt probiotics on the quality of sleep.  The researchers concluded: "These findings suggest that daily consumption of the Lactobacillus casei strain may help to maintain sleep quality during a period of increasing stress."  As a note, this particular strain is included in virtually all of the most popular yogurt brands.
Regarding the calcium in dairy products, William Sears, M.D. writes: "Calcium helps the brain use the amino acid tryptophan to manufacture the sleep-inducing substance melatonin. This explains why dairy products, which contain both tryptophan and calcium, are one of the top sleep-inducing foods."
Plain, unsweetened yogurt is healthiest and Greek yogurt is a great, high-protein choice. Fresh fruit can be added as a natural sweetener.
Yogurt and Weight Loss
Yogurt is a boost to weight loss. A healthy supplement similar to the acidophilus used in yogurt was recently found in a Canadian study to help overweight women lose weight and keep it off.  It was discovered that the supplement made the intestinal wall stronger and more able to prevent inflammatory, obesity-causing substances from passing into the intestine and entering the bloodstream.
Immunity Boosting Yogurt
Yogurt is great for strengthening and boosting one's immunity against infection and illness per studies in the American Journal of Clinical Nutrition.  In particular, yogurt with the Lactobacillus bulgaricus form has been shown to reduce the frequency of colds in older adults after they ate it over a twelve-week period.  This is another commonly used form of probiotic that's widely-available in yogurts.
This news is shared with you by Nutrition Breakthroughs, a provider of natural health articles and effective natural remedies since 2001. Nutrition Breakthroughs makes the original calcium and magnesium based natural sleep aid Sleep Minerals II, as well as Joints and More, the natural solution for joint relief, aches and pains, stronger hair and nails, and more energy.