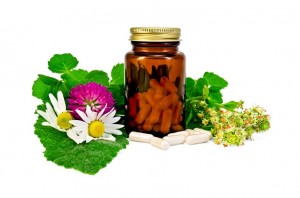 Sage is a delicious herb used in cooking, particularly with poultry and pasta sauces, and it has a long history of use for medicinal purposes. It belongs to the mint family, along with oregano, rosemary and thyme.
It's been used by herbalists to treat sore throats, strengthen the nervous system and improve brain function. The German Health Commission officially approved the use of sage for excessive sweating and one German study found sage to reduce excessive perspiration by 50%. Sage leaf is also a well-researched remedy for hot flashes and night sweats in menopause.
In a breakthrough study from Switzerland, researchers examined the use of a fresh sage preparation for treating hot flashes and other menopause symptoms in women. The women were an average age of 56, they were menopausal for at least 12 months, and they experienced 5 or more hot flashes per day. The women took a daily tablet of fresh sage leaves for 8 weeks.
The average number of hot flashes decreased considerably each week from week 1 to week 8. Mild hot flashes decreased by 46%, moderate flashes decreased by 62%, severe hot flashes decreased by 79%, and very severe ones decreased by 100%. The Swiss researchers concluded that fresh sage has great value in the treatment of hot flashes and other related menopause symptoms.
Italian scientists have also taken an interest in studying sage for women at menopause. They set out to study the effects of a combination of sage and alfalfa leaves on symptoms such as hot flashes, night sweats, insomnia, dizziness, headaches and heart palpitations.
The Italian study lasted for three months and followed thirty menopausal women who took a sage and alfalfa supplement daily. At the end of the study, hot flushes and night sweats had completely disappeared in twenty of them and the others had reduced symptoms – making the combination of sage and alfalfa an effective remedy for menopause discomforts.
The minerals calcium and magnesium have also been the subject of studies on hot flashes. One study from the Virginia University Health System found that magnesium supplements reduced hot flash frequency in women from 52 to 28 per week — a 41% reduction.
One natural sleep aid with benefits for hot flashes is Sleep Minerals II from Nutrition Breakthroughs. This softgel formula contains highly absorbable forms of calcium and magnesium, the best minerals for sleeplessness and insomnia, as well as for hot flashes, night sweats, heart health, restless legs syndrome, bone strength, teenage insomnia and menopause insomnia.
Anita L. of New Caney, Texas says: "I was having hot flashes every 30 minutes to an hour through the night and was so miserable. After about two weeks of taking the Sleep Minerals, I noticed an incredible difference with my sleep. I have much less interruption from flashes, I'm sleeping much better and I'm a lot more comfortable."
Natural menopause remedies such as sage, alfalfa, calcium and magnesium are healthy options for women with hot flashes and insomnia. For more information on Sleep Minerals II visit this page.