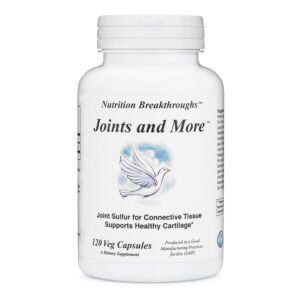 Greetings to you,
It's Jobee at Nutrition Breakthroughs. Hope you and your family are staying healthy and doing good.
Today I'm happy to announce that our newest product 'Joints and More' is available on Amazon. It helps with joint pain, stiffness, allergies, increasing energy and more. See some reviews for it below.
In the mean time, here are four select health tips for increasing your good health and well-being:
1. Choose healthy foods and increase vegetables and fruits that you enjoy. Eat healthy, preferably organic proteins such as grass-fed meat, wild Alaskan salmon and organic eggs.
2. Take a walk each day or a couple of short walks. This supports virtually every organ and system in your body to stay strong. Walking is also proven to help good sleep and remedy insomnia.
3. Take supplements that suit you. Some options are fish oil for reducing inflammation and supporting the eyes and brain. Another one is MSM to remedy joint pain, stiffness and aches, and also ease allergies and increase energy.
4. To reduce stress, take breaks to do artistic or creative things that you enjoy. When communicating with others, express things in a positive, upbeat way.
And now, a drum roll for the new product announcement. Our newest product "Joints
and More" with pure MSM is now available on Amazon.
Here are a couple of reviews for it:
R. Boulos of Houston, TX. says: "I've been taking the Joints and More supplement and it's helping a great deal. After taking it twice a day, I notice that when I wake up in the morning the joint pain I was having in my front and back shoulders is almost gone."
C. Drozdowski says: "After about a month of starting to take Joints and More my hair began growing like crazy. I figured if my hair was growing that fast, then maybe my nails would also. So I took my fake nails off and for the first time in my entire nail-biting life I have MY OWN nails! They are getting stronger with each passing week."
To your good health,
Jobee Knight
Nutrition Breakthroughs