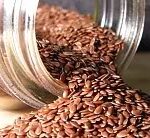 The North American Menopause Society (NAMS) reports that an estimated 6,000 US women reach menopause each day, which translates to over 2 million women every year.  Hot flashes and night sweats are a frequent symptom of menopause.  Hormone replacement therapy (HRT) drugs can provide some relief for hot flashes, but at a considerable price.
The Women's Health Initiative study, which followed 16,608 women being given hormone replacement therapy (HRT), discovered a high risk of breast cancer, coronary heart disease and stroke from the use of these drugs. As a result, more and more women today are seeking the use of natural remedies for menopause symptoms such as hot flashes, night sweats, migraine headaches, anxiety, fatigue, and insomnia.
A hot flash, also called hot flush, is a sudden feeling of warmth and often a breakout of sweating in the upper half of the body. When these occur at night, they are called night sweats.  Hot flashes are caused by a reduced function in the body's temperature regulation, which is brought about by changing hormone levels. When estrogen in women, or testosterone in men is depleted, a rapid increase in skin temperature can occur due to dilatation (widening) of the skin blood vessels — and it can become frequent.  This process of blood vessel dilation is the body's way to release the heat.
One natural remedy for hot flashes has been making headlines lately. Mayo Clinic breast health specialist Sandhya Pruthi, M.D., recently conducted a study on crushed flaxseed. The 29 participants in Mayo's clinical trial were women with hot flashes who did not want to take estrogen because they perceived they had an increased risk of breast cancer.
Flaxseed was selected by Dr. Pruthi's team as it is a phytoestrogen (plant-based estrogen source). The women were given six weeks of flaxseed therapy, consisting of 40 grams (one and a half ounces) of crushed flaxseed eaten daily. Study participants were asked questions that were translated into their individual hot flash scores.
The result was that their frequency of hot flashes decreased fifty percent.  There was also an average fifty-seven percent decrease in the overall hot flash scores for the women who completed the trial.  Participants also reported good improvements in mood, joint and muscle pain, chills, and sweating. This was a significant benefit to their health and quality of life. Dr. Pruthi said: "We are quite pleased with the improvements noted by these women in their quality of life. Not only does flaxseed seem to alleviate hot flashes, but it appears to have overall health and psychological benefits as well."
Other natural remedies for hot flashes are the well-known relaxing minerals, calcium and magnesium.  Regarding mineral deficiency at the time of menopause, nutritionist Adelle Davis says, "The amount of calcium in a woman's blood parallels the activity of the ovaries.  During the menopause, the lack of ovarian hormones (estrogen and progesterone) can cause severe calcium deficiency symptoms to occur, including irritability, hot flashes, night sweats, leg cramps, and insomnia. These problems can be easily overcome if the intakes of calcium, magnesium, and vitamin D are all generously increased and are well absorbed."
One insomnia remedy increasing in popularity among menopausal women is Sleep Minerals II from Nutrition Breakthroughs.  This natural sleep aid contains highly absorbable forms of calcium and magnesium, the best minerals for sleeplessness and insomnia, as well as for heart health, restless legs syndrome, bone strength, and menopause insomnia.  The formula also includes vitamin D and zinc and is delivered in a softgel form with healthy carrier oils, making it more quickly and fully assimilated than tablets or capsules and providing a deeper, longer-lasting sleep.
Anita L. of New Caney, Texas says: "I was having hot flashes every 30 minutes to an hour through the night and was so miserable.  After about two weeks of taking the Sleep Minerals, I noticed an incredible difference with my sleep.  I have much less interruption from flashes, I'm sleeping much better, and I'm a lot more comfortable."
For more information on Sleep Minerals II visit this link.