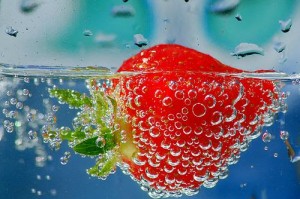 Sometimes just taking a drink of pure, fresh water can lighten our spirit and improve our health. Hydration means to supply with ample fluid or moisture. Studies are finding that being well-hydrated with water can assist with weight loss, help relieve fatigue and migraines, and improve mood and concentration.
Water is vital to life and ranges from 75% of body weight in infants to 55% of body weight in the elderly. The more water we drink, the better it circulates through the body, bringing essential nutrients and vitamins to places they are needed and flushing out toxins.
Water provides its health benefits without calories or sugar and actually comes in many forms such as spring water, carbonated water, mineral water, distilled water and well water. It is present in soups, stews, and teas, and is found within the most beneficial of all foods: vegetables and fruits.
Water is gaining attention for its ability to be an appetite-controller that has no side effects, costs very little and requires no prescription. In a study from the American Chemical Society, participants aged 55 to 75 all ate a low-calorie diet during the study. They were divided into two groups — one of the two groups drank 2 cups of water prior to their meals and the other didn't. Over the course of the 12-week study, the water-drinkers lost five more pounds than the non-water drinkers.
Researchers from the Netherlands set out to prove the common notion that dehydration is considered to result in headaches and they studied 18 patients with migraine headaches. One group was given a placebo and the other was instructed to increase their daily intake of water. In the group that increased their intake of water by a quart a day, the total overall hours of headache were reduced by 21 hours in 2 weeks.
An easy way to increase the water intake is to fill a container with a quart of water and bring it along to drink throughout the day. Avoid tap water and use the filtered, spring or distilled varieties. Eating more raw fruits and vegetables is another key strategy; not only because of their high water content, but because of the plant chemicals they contain. Known as "phytochemicals", these active nutrients provide the colors of the plants and give benefits to the heart, eyes, hormones and more.
This health news is provided by Nutrition Breakthroughs, maker of the effective natural sleep aid featuring calcium and magnesium Sleep Minerals II, and Joints and More, the natural solution for joint relief, hair growth, allergies and more energy.