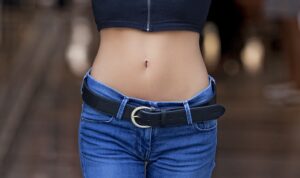 Here's to a healthy and happy stomach for all. Good stomach health sets the direction for the overall health of the body.
Our energy and well-being depend on our stomach, intestinal and bowel health as these are the processing centers for all our foods and beverages.
When our intestinal tissues are healthy and pain-free, the nutrients we eat get absorbed well into the body and nourish every cell and organ and system.
Sometimes the stomach and intestinal areas may become sore, irritated or upset and can benefit from some natural remedies to heal them.  The lower bowel can also become inflamed or irritated and this may be a sign of hemorrhoids.
Here is a summary of some of the most proven remedies:
Okra
Okra is good for soothing sores in the stomach, increasing health in the intestinal tissues, supporting digestion, and cleansing toxins from the small intestine.  It is also proven in studies to relieve ulcers. This vegetable has been valued for its edible green pods and high amounts of vitamin C and folic acid (vitamin B9). Powdered okra supplements are available and eating whole okra is beneficial.
According to a study in the Journal of Food Processing and Technology: "Okra is used to stabilize blood sugar by regulating the rate at which sugar is absorbed from the intestinal tract. It is a good vegetable for those feeling weak, exhausted, and suffering from depression and it is also used in ulcers, lung inflammation and sore throat, as well as irritable bowel."
Collinsonia
Collinsonia is a wonderful herb that helps to normalize the entire intestinal tract and related organs such as the liver.  It is also effective for vein health, varicose veins and remedying hemorrhoids, according to an article taken from the American Materia Medica. It assists in keeping the bladder and kidneys healthy as well.
Vitamin C
Whole food versions of the famous vitamin C are vital to a healthy intestinal tract.  This includes sources such as acerola cherries and camu camu berries, which are usually found in powdered supplement form. Inflammatory bowel disease (IBD) can affect any part of the gastrointestinal tract from the mouth to anus. Chron's disease is one form of this and the symptoms can include stomach pain, diarrhea, fatigue and malnutrition.
In one study, it was found that 7 out of 10 people with Chron's had a severe vitamin C deficiency – so vitamin C is highly recommended for any type of intestinal ailment.
Minerals
Mineral deficiency can have a profound effect on our intestinal health.  One study showed that a deficiency of magnesium leads to inflammation in the small intestine, as well as significant changes in nearby and remote organs and an increase of overall stress in the body.  Natural sources of minerals are best such as kelp, alfalfa, and leafy green vegetables like chard and spinach.
In summary, irritations of the stomach, intestines and bowel can be helped and even remedied and healed.
This natural health news is provided by Nutrition Breakthroughs, a publisher of nutrition articles and supplier of natural remedies since 2002.
Nutrition Breakthroughs shares easy to understand information from new discoveries and provides Sleep Minerals II, the effective natural sleep aid with calcium, magnesium, zinc and vitamin D   Visit us often to learn about the most effective natural alternatives to drugs.