By Dr. Brent Wells, Doctor of Chiropractic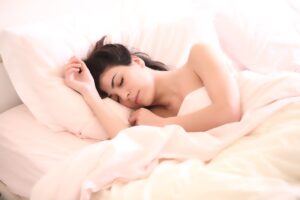 While everyone has trouble falling asleep now and then, if you find that you are frequently having difficulty falling asleep or staying asleep because of back pain, you aren't alone.
Poor sleep is a well-known cause of a wide range of both psychological and physical effects.  For one thing, it can be nearly impossible to find a comfortable sleeping position.  Another contributing factor is that while gentle exercising and walking can create better sleep, a lack of exercise due to chronic back pain makes sleep more elusive.
The Catch-22
One of the main issues is that sleeping poorly makes back pain worse and the worse your back pain, the less quality sleep you will have.
"Rapid Eye Movement" or REM sleep is one of the deepest, most necessary and health-rejuvenating phases of sleep. Your body may be more sensitive to pain when you can't get some serious REM sleep.  A lack of quality sleep only increases inflammation, which contributes to pain and can also lead to depression.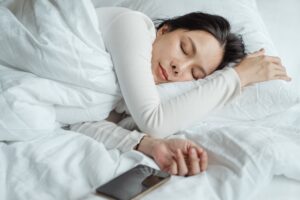 Normal Quality Sleeping
Sleep isn't just a nice past time; it is vital for the body's overall functioning. Quality sleep, meaning REM sleep, allows the body to rest and conduct its needed functions, such as the removal of old hormones and the creation of new ones, and it can't do this when the mind is awake.
While there is no true "normal" amount of sleep, most people need between 7 and 9 hours each night. Of course, some seem to operate fine on 6 hours and others need 11, but since one's sleep requirements change during a person's lifetime, there is no one perfect number of hours, only what is perfect for you.
Sleeping with Chronic Back Pain
If you suffer from chronic back pain, you might find getting enough quality sleep a real problem.
While it might seem impossible, there are plenty of ways you can try that have been shown to help those with lower back pain or chronic back pain get the sleep they desperately need.
Let me share with you the tips I give my patients when it comes to sleeping with back pain.
Essential Tips for Sleeping with Back Pain
Keep in mind that not everything will work for everyone. If one method doesn't work for you, don't be afraid to try something else.
Essential Tip #1- Eat Foods That Are Known to Stop Inflammation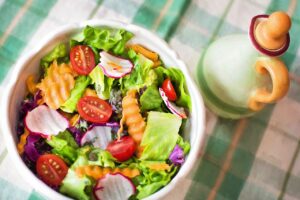 It's a fact that some foods encourage inflammation while others help to put out that fire. Inflammation causes pain, so the more you can do to stop inflammation, the less pain you will have. Some of the best anti-inflammatory foods include:
Green leafy veggies, such as spinach and chard
Fatty fish
Colorful fruits, such as cherries, blueberries, and strawberries
Nuts, including walnuts and almonds
Avoid foods that encourage inflammation such as fried foods, sugary treats, junk food and refined flour goods (such as cookies or white bread).
On a side note, eating more anti-inflammatory foods may not only help reduce your pain, but it can help prevent cardiovascular issues and might also prevent cancer.
Essential Tip #2- Get in at Least Some Stretching and Exercise Daily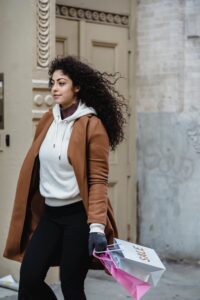 I know, right about now, you are saying "How can I exercise when my back hurts so much?" This is another terrible Catch-22 in life. You need to exercise and stretch to stop back pain, but exercise and stretching hurt your back.
Nearly everyone can do at least some sort of exercise and stretching. I often recommend yoga stretches to my patients, since it's a good way to do both. It might not be aerobic, but it will help to strengthen the muscles, as well as stretch them. Once you are feeling stronger, your back pain will be reduced, and you might be able to try some other forms of exercise.
Swimming and water aerobics are also an activity I highly recommend. If these are open at this time in your area, check with your YMCA, YWCA, or other community pools regarding classes.
Essential Tip #3- Try Natural Supplements
There are plenty of supplements that can help to reduce inflammation, as well as promote sleep. Some of the best ones would be calcium and magnesium, which have been proven to induce natural sleep and are directly related to our sleep cycles.
Anti-inflammatory supplements include curcumin, fish oil, ginger, and alpha-lipoic acid, or ALA. If you are unsure about interactions with your current medications or if you want to know more about which supplements might be best for you, consult with your primary care physician or chiropractor.
Essential Tip #4- Time for a Bed Check
You might think that your bed is just fine, but the truth is that most mattresses have a lifespan of only 10 years. If your mattress is more than 10 years old, you aren't doing your back any favors by sleeping on it.
I know that mattresses can be expensive and if you are wondering which mattress would be best for your back, you might consider the Casper Wave mattress, as recommended by the American Chiropractic Association.
These are not terribly expensive, and you don't need a fancy box spring or anything other than a flat surface to set it on. Casper also has a generous return policy. I've had many clients say that they were skeptics, but after just a few nights with this mattress, they slept like a baby.
Essential Tip #5- Pillow Talk
Many people sleep with the same pillow for decades, but like mattresses, these can wear out in as little as 4 years. If you also experience neck pain along with back pain, your pillow might be to blame. Try different pillows until you find the one that works best for you.
I also recommend body pillows. These long, very flexible pillows can be molded into many positions, allowing you to support your back and reduce back pain.
If you have tried all of the above and you still experience back pain that keeps you awake, it's time to consult a professional. See your primary care physician or your chiropractor for practical advice and a health checkup.

******************************************************************************************
This article is shared by Nutrition Breakthroughs, maker of the original calcium and magnesium based sleep aid Sleep Minerals II.
About the Author:
Dr. Brent Wells founded Better Health Chiropractic & Physical Rehab in 1998. He is a graduate of the University of Nevada where he earned his Bachelor of Science degree before moving on to complete his doctorate from Western States Chiropractic College. The goal for Dr. Wells is to treat Anchorage Alaska patients through physical therapy, chiropractic care, and massage therapy, with care and compassion while providing them with a better quality of life.
Will chronic back pain ever go away?
In this article, Dr. Brent Wells, Doctor of Chiropractic, shares the tips he gives to his patients when it comes to remedying chronic back pain. The article includes how to sleep better, which foods to eat, gentle exercises and stretches, supplements to take, and tips for mattresses and pillows.