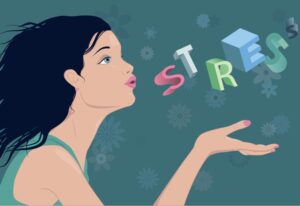 The adrenal glands, also known as the "stress glands", are a pair of vital organs about the size of a walnut that are nestled on top of each kidney. They provide life-giving hormones such as adrenalin, cortisol, estrogen and testosterone. New studies are showing natural vitamins and minerals that can support adrenal health.
Adrenaline is made in response to emotional or physical stress: It works to prepare the body for stress by increasing the heart rate and directing energy to the muscles.   Cortisol affects metabolism, immunity and blood sugar levels. The adrenals make many other hormones, including estrogen and testosterone, and in fact they take over the production of these after middle-age.
Too much or too little adrenal hormones can result in adrenal fatigue, muscle tension, irritability, poor focus, insomnia, depression, arthritis or blood sugar imbalances. Research studies are discovering that the B vitamins, vitamin C and magnesium have the ability to support adrenal function, overall health, and reduce the symptoms of stress.
B Vitamins
Vitamin B-5, also known as pantothenic acid, is used by the adrenal gland as a key component to manufacture its hormones and a deficiency of B-5 can result in impaired adrenal function. In a study from a Russian medical journal, the researchers examined the effects of vitamin B-5 and found that one single dose had a significant effect on the adrenals by increasing hormone production and gland functioning.
Folic acid (vitamin B-8) and cobalamin (vitamin B-12) have also been studied for their effects on adrenal health. To do this, researchers from the Dept. of Medicine in Lund Sweden injected cortisol into 30 healthy young males for only four days and found that their levels of B-8 and B-12 were significantly depleted.
These findings show that in the presence of excess stress hormones, B vitamins are removed from the body.  Foods and supplements high in B vitamins can reduce the effects of stress.
Because all the B vitamins work together as a team, it's important to take a supplement that contains them all in a complex,  to avoid  creating deficiencies in any not taken.
The full B complex includes Vitamin B1 (thiamine), Vitamin B2 (riboflavin), Vitamin B3 (niacin or nicotinic acid), Vitamin B5 (pantothenic acid), Vitamin B6 (pyridoxine), Vitamin B7 (biotin), Vitamin B9 (folic acid) and Vitamin B12 (cobalamin).
Foods high in B complex vitamins include nuts, seeds, eggs, berries, meat, organ meat, fish, poultry, whole grains and leafy vegetables.
Vitamin C
The adrenal glands are "endocrine glands" – meaning one of those that produce hormones and put them directly into the bloodstream to be carried to target organs a distance away. From the journal "Endocrine Research" comes a review of vitamin C and its effects on adrenal function.
The researchers note that the highest amounts of vitamin C in the body are found in the adrenals and the vitamin is used to make all of the adrenal hormones. When one is faced with stress, vitamin C is rapidly used up to make cortisol.  From a review of cell culture studies and other research, they conclude that vitamin C deficiency creates lowered adrenal hormones; an inability to keep them stored, and impaired adrenal cell health. Vitamin C is another crucial one to take for adrenal health.
Magnesium
From the journal "Medical Hypotheses" comes an article called "Rapid Recovery from Major Depression Using Magnesium Treatment". The writer notes that magnesium deficiency can be caused by eating processed foods, by the action of the stress hormones (which push magnesium out of the cells), and from consuming an improper ratio of calcium to magnesium in the diet. Case histories are mentioned that show recovery from major depression in less than seven days by using 125 mg. to 300 mg. of magnesium with each meal and at bedtime.
Moderate Exercise
A study from the journal "Expert Review of Endocrinology Metabolism" reviewed the role of exercise as a modifier of stress. The study notes that emotional, environmental and other stresses can have long lasting ill effects on one's health, and that regular amounts of moderate daily exercise (in combination with good nutrition) can enhance and improve the treatment of stress-related health problems. Because fatigue goes along with adrenal issues, it's best to pick those times during the day when one's energy is at high points to do some exercise.
General Adrenal Health Tips
Some good general tips for supporting the adrenals would be to reduce sugars, desserts, fast foods, caffeine, unhealthy oils and fried foods in the diet. Focus on salads, vegetables and healthy proteins like fish, turkey and grass-fed beef. Include oils like olive oil, coconut oil, flax oil, walnuts, pecans, pumpkin seeds and avocados. Get some time outside in the sun each day and do some walking or other moderate exercise daily.
This health news is shared with you by Nutrition Breakthroughs, a provider of nutrition articles and effective natural remedies since 2001. Nutrition Breakthroughs makes the original calcium and magnesium based natural sleep aid Sleep Minerals II. Because the minerals in Sleep Minerals II are in a highly absorbable softgel form, they also help with stress relief, relaxation, restless leg syndrome and more. For more information, visit the Sleep Minerals II page.
References: Rapid recovery from major depression using magnesium treatment – http://www.ncbi.nlm.nih.gov/pubmed/16542786
Vitamin C is an important cofactor for both adrenal cortex and adrenal medulla – http://www.ncbi.nlm.nih.gov/pubmed/15666839
Stress and the neuroendocrine system: the role of exercise as a stressor and modifier of stress – http://www.ncbi.nlm.nih.gov/pmc/articles/PMC2953272/
Pantothenic acid and adrenal function – http://www.altmedrev.com/publications/16/3/263.pdf