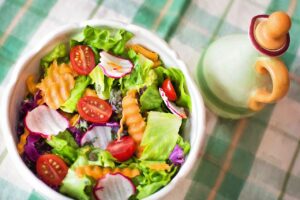 This article could also have the title: "If you want to sleep like a baby, start by eating like a bunny!"  There are some very special vegetables that are great foods to sleep better.
If you're not a vegetable lover, start by just picking one of these and putting some delicious dressing or sauce on it.
Here are three of the best vegetables for a good night's sleep and having more energy in your days, and there's also some lifestyle tips that will leave you feeling more refreshed and energized in the morning.
Leafy Greens
The motto of this section is "Don't leaf your sleep to chance – eat your greens!"  Leafy greens like spinach, kale, and other lettuces are excellent sources of magnesium, a mineral that can help promote relaxation and better sleep. A magnesium deficiency is usually seen as agitated sleep with frequent nighttime awakenings.  Leafy greens also contain calcium, a mineral that helps the brain to produce melatonin, a hormone that regulates sleep.
Sweet Potatoes
This section is titled: "Sweet dreams are made of sweet potatoes and their prized potassium." Sweet potatoes are good foods to sleep more deeply as they are rich in complex carbohydrates.  Unlike simple carbs like white flour and sugar products, sweet potatoes can help promote sleep by increasing levels of the amino acid tryptophan in the bloodstream. They are also a good source of potassium, which can help regulate blood pressure and reduce wakings in the night.  A deficiency of potassium can interfere with restful sleep due to the potential for stiff muscles or muscle spasms in bed.
Broccoli
The motto here is: "Say goodnight to insomnia with the help of broccoli's dream blend of vitamin C and calcium!"  Broccoli is a great source of vitamin C, which can help reduce levels of the stress hormone cortisol and promote relaxation.
Other good sources of vitamin C are citrus fruits, bell peppers, strawberries, tomatoes and white potatoes.  Broccoli also contains calcium, which is directly related to our cycles of sleep. In one study, published in the European Neurology Journal, researchers found that calcium levels in the body are higher during some of the deepest levels of sleep, such as the rapid eye movement (REM) phase,
Lifestyle Tips for Better Sleep
In addition to including healthy vegetables in your diet, there are also a few lifestyle tips that can help improve the quality and quantity of the sleep you get:
Establish a consistent sleep schedule and stick to it, even on weekends.
Create a relaxing bedtime routine, such as taking a warm bath or reading a book.
Avoid caffeine, alcohol, and large meals before bedtime.
Keep your bedroom cool, dark, and quiet.
Limit screen time before bed and avoid using electronic devices in bed.
By eating these wonderful vegetables and making some simple lifestyle changes, you can help improve the quality of your sleep and wake up ready to tackle the day!
This article was written for you by Nutrition Breakthroughs, maker of the original calcium and magnesium based sleep aid Sleep Minerals II.
Tammy M. of Meridian, Idaho says: "I was plagued with insomnia for five years and desperate for a breakthrough. Nothing has helped me more than Sleep Minerals II — I'm so sold on them I could go door to door promoting them. I'm 60 years old and have never slept so soundly."
For more info, visit the Sleep Minerals II page.