Greetings to you,
Check out the amazing health benefits of these power-packed small morsels in the chart below.  Seeds such as flax, chia, sunflower and pumpkin have major healing effects. Because of their high fat content, seeds soak up pesticides and toxins like little sponges. Organic is best.
According to Authority Nutrition: "Pumpkin seeds may be small, but they're packed full of valuable nutrients.  Eating only a small amount of them can provide you with a substantial quantity of healthy fats, magnesium and zinc."
"Because of this, pumpkin seeds have been associated with several health benefits.  These include improved heart health, prostate health, protection against certain cancers and improved sleep."
Another famous healthful seed is the sunflower seed, which can be eaten as a crunchy snack or used as creamy sunflower seed butter.  They are a good source of vitamin E, B complex vitamins and many minerals.  These nutrients help protect the heart, give us energy, and strengthen our immunity against infections.
Enjoy the chart below.  This natural health information is brought to you by Nutrition Breakthroughs, maker of effective natural sleep aids and natural joint and pain remedies.
To your health,
Jobee Knight
Nutrition Breakthroughs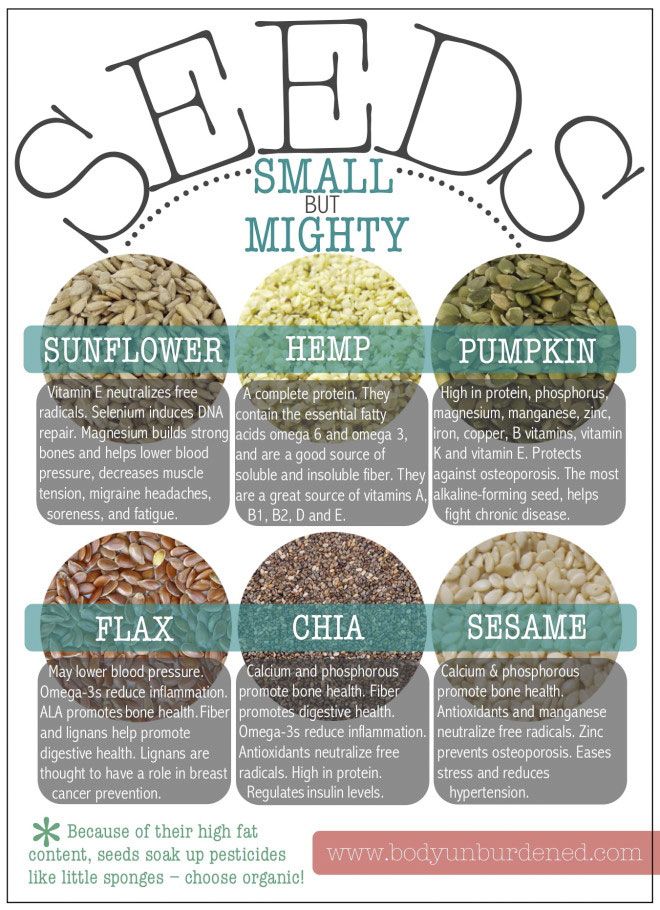 Provided by Nutrition Breakthroughs.com