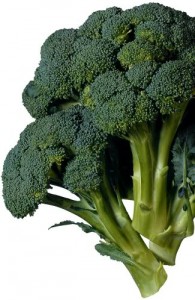 via sciencedaily.com
ScienceDaily – New research has found that if you want the many health benefits associated with eating broccoli or other cruciferous vegetables, you need to eat the real thing — a key phytochemical (plant chemical) in these vegetables is poorly absorbed and of far less value if taken as a supplement.
The study, published by scientists in the Linus Pauling Institute at Oregon State University, is one of the first of its type to determine whether some of the healthy compounds found in cruciferous vegetables can be just as easily obtained through supplements. The answer is no.  And not only do you need to eat the whole foods, you have to go easy on cooking them.
"Some vitamins and nutrients, like the folic acid often recommended for pregnant women, are actually better-absorbed as a supplement than through food," said Emily Ho, an Oregon State University (OSU) associate professor.  "Adequate levels of nutrients like vitamin D are often difficult to obtain in most diets. But the particular compounds that we believe give broccoli and related vegetables their health value need to come from the complete food."
….Broccoli has been of particular interest to scientists because it contains the highest levels of certain (plant chemicals) that many believe may reduce the risk of prostate, breast, lung and colorectal (lower stomach) cancer. When eaten as a raw or lightly-cooked food, enzymes in the broccoli help (our health greatly).  Broccoli is also high in the minerals magnesium, calcium and potassium.
Note: slight edits were made in this information for easier reading by the blog author Nutrition Breakthroughs.
This health tip is provided by Nutrition Breakthroughs, maker of the natural insomnia remedy Sleep Minerals II. Sleep Minerals II contains highly absorbable forms of the best minerals for relaxation: Calcium, magnesium and Vitamin D. The ingredients are delivered in a softgel form with carrier oils, making them more easily assimilated than capsules or tablets and providing a deeper, longer-lasting sleep.
Valerie H. in Santa Clarita, CA. says: "I had such bad menopause insomnia that I couldn't fall asleep.  It took me hours to get to sleep even though I was very tired.  I also had creepy crawly feelings in my legs at night.  I got the Sleep Minerals II and after a few days it started to work really well.  In fact for the last few nights, I've reduced the dosage to one softgel as its working great.  I fall asleep now within 20 minutes and no more creepy feelings in my legs."
For more information on Sleep Minerals II click here.