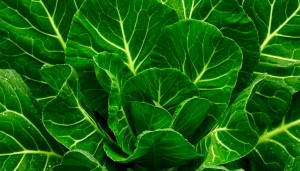 Article provided courtesy of The Life Extension Foundation
Seeing green? It's not pure coincidence. People are finally catching on to the health benefits of leafy greens and many are including them in their everyday diet. And it's not all that surprising.
Greens are a great source of antioxidants (natural cell protectors), fiber, vitamins, and minerals.
Plus, they're also low in calories and carbs, making them an ideal food for those of us who are watching our waistlines.
Not feeling the green movement yet? Read on. Maybe this will finally sway you!
What Are Leafy Greens?
First, let's clarify what we mean by leafy greens. They include (but are not limited to) spinach, watercress, bok choy, collard greens, chard, mustard greens, romaine lettuce, arugula, and the very popular kale.
Easy enough? Now let's move on to their health benefits.
Leafy Greens May Prevent Diabetes
A British study revealed people who ate about one and a half servings of leafy greens a week were 14% less likely to develop diabetes.1
In this review, scientists investigated the intake of fruit and vegetables on the incidence of type 2 diabetes. In the analysis, leafy greens beat out other fruits and vegetables.
Leafy greens are great sources of magnesium and vitamin K, nutrients with anti-diabetic effects.
Leafy Greens Protect DNA
Exercise is great for your body, but there is a downside: The production of free radicals that can damage your DNA (the material in your cells that contains the genes). It turns out leafy greens may help with this too.
(A note from Nutrition Breakthroughs: free radicals are damaging molecules that come from a reaction of oxygen inside the body.  They come from pollution, smoke, medications, chemicals, a poor diet, and also as a byproduct of normal digestion, exercise and metabolism.
"Anti-oxidants (or anti oxygen substances) such as vitamins and healthy plant nutrients, can help to defend the body against free radical damage and repair it).
In a study, participants given watercress before workouts and for an extended period of time had less evidence of DNA damage compared to a control period.2
Leafy Greens May Prevent Chronic Disease and Heart Disease
The Nurses' Health Study is one of the most important studies to date. It has examined the health habits of people over the years and has provided us with important health information.
In one analysis that included over 100,000 people, the intake of green leafy vegetables was associated with a lower risk of major chronic disease and cardiovascular disease over a 14-year period.3
The association was stronger for leafy greens than for other groups of fruits or vegetables.
Leafy Greens Protect your Vision
Of the many beneficial compounds in leafy greens, two are of particular importance to your eyes: lutein and zeaxanthin. They play a critical role in preventing macular degeneration, the most common cause of age-related blindness.4
Lutein and zeaxanthin are found naturally in your eyes. They act like natural "sunscreen," filtering out harmful UV light, and act as antioxidants.
Lutein and zeaxanthin can also be found in dietary supplements.

This natural health news is shared by Nutrition Breakthroughs, a publisher of nutrition articles and supplier of natural remedies since 2002. Nutrition Breakthroughs makes Sleep Minerals II, the effective natural sleep aid with calcium, magnesium, zinc and vitamin D, and also Joints and More, the natural solution for joint relief, arthritis, aches and pains, stronger hair and nails and more energy.
References:
BMJ 2010 Aug 18;341:c4229.
Br J Nutr. 2013 Jan 28;109(2):293-301.
J Natl Cancer Inst. 2004 Nov 3;96(21):1577-84.
J Ophthalmol. 2014;2014:901686. Epub 2014 Jan 23.Article provided courtesy of LEF.org (The Life Extension Foundation): 5 Big Reasons to Eat Leafy Greens.