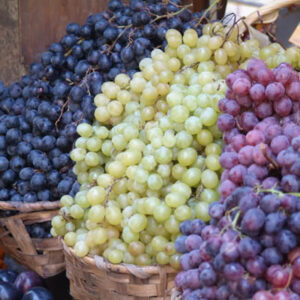 Article courtesy of WorldHealth. net
The most common joint disease among Americans, osteoarthritis is a condition where the natural cushioning between joints – the cartilage – wears away.  Because symptom management is often ineffective and joint replacement is major surgery, many osteoarthritis suffers seek natural approaches.
Grapes are rich in anti-inflammatory compounds that have been shown to reduce inflammation.  Shanil Juma, from Texas Woman's University and colleagues conducted a sixteen week clinical study, in which 72 men and women with knee osteoarthritis were assigned to either consume grapes in the form of a whole grape freeze-dried powder, or a placebo powder.  The data revealed that both men and women consuming a grape-enriched diet had a significant decrease in self-reported pain related to activity and an overall decrease in total knee symptoms – notably, improved joint flexibility and overall mobility.
This beneficial effect was more pronounced in females.  Attributing these observed benefits to the anti-inflammatory compounds found in grapes, the lead investigator comments that: "These findings provide promising data that links grape consumption to two very important outcomes for those living with knee osteoarthritis: reduced pain and improvements in joint flexibility."
This news is provided by Nutrition Breakthroughs.  Their mission is to provide nutritional supplements that get results, and therefore help people to avoid addictive drugs and their side effects.  Since 2009, their natural sleep aid Sleep Minerals II has been keeping that promise — by providing highly absorbable forms of calcium and magnesium that soothe even the worst insomnia and help everyone from teenagers, to women with menopause symptoms, to seniors, to get a good night's sleep.
For more information on Sleep Minerals II, visit here.
Article source: http://www.worldhealth.net/news/grapes-may-alleviate-arthritis/