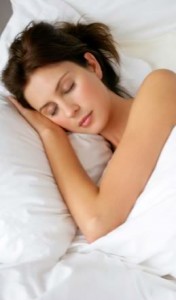 From ScienceDaily .com
A placebo-controlled study by the University of Oxford in the United Kingdom suggests that higher levels of omega-3 DHA, the group of fatty acids found in algae and seafood, are associated with better sleep. The researchers explored whether 16 weeks of daily 600 mg. supplements of algae sources would improve the sleep of 362 children.
The children who took part in the study were not selected for sleep problems, but were all struggling readers at a mainstream primary school. At the outset, the parents filled in a child sleep questionnaire, which revealed that 40% of the children in the study suffered from regular sleep disturbances. Of the children rated as having poor sleep, the researchers fitted wrist sensors to 43 of them to monitor their movements in bed over five nights.
This exploratory study showed that the children on a course of daily supplements of omega-3 had nearly one hour (58 minutes) more sleep and seven fewer waking episodes per night compared with the children taking the corn or soybean placebo.  The findings are due to be published in the Journal of Sleep Research.
This news is brought to you by Nutrition Breakthroughs.com.  Since 2001 Nutrition Breakthroughs has been providing natural health articles and effective natural remedies.  Their mission is to provide nutritional supplements that get results, and therefore help people to avoid addictive drugs and their side effects.
Since 2009, their natural sleep remedy Sleep Minerals II has been keeping that promise — by soothing even the worst insomnia and helping everyone from teenagers to seniors to get a good night's sleep.
For more information on the effective natural insomnia remedy Sleep Minerals II, visit http://www.NutritionBreakthroughs.com/html/Sleep_Aid
Article source: http://www.sciencedaily.com/releases/2014/03/140306103931.htm