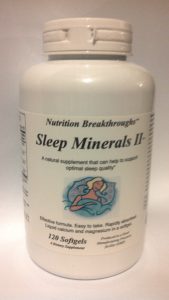 Sleep Minerals II is the original drug-free calcium and magnesium formula for better, deeper sleep.
It is known for soothing even the worst insomnia — helping everyone from teenagers, to women with menopause symptoms, to seniors, to restless leg syndrome sufferers to get a good night's sleep.
Here are a few of the most recent reviews and testimonials for Sleep Minerals II.
Tammy M. of Meridian, Idaho says: "I was plagued with insomnia for 5 years and desperate for a breakthrough. Nothing has helped me more than Sleep Minerals — I'm so sold on them I could go door to door promoting them. I'm 60 years old and have never slept so soundly."
Chris M. of the United Kingdom says: "I take one softgel of Sleep Minerals II before bed every night and within 20 minutes I am asleep. The difference in the quality of my sleep and the ease with which I get to sleep using this product is monumental. I have stopped obsessing about sleep or dreading bedtime — I just take a softgel and drift off. If I stop taking them, within a week my sleep starts to lighten in quality, the amount of my sleep diminishes, and my old insomniac patterns reappear."
For more info on Sleep Minerals II, visit this page.
Laura says: "Love the sleep minerals. I have been off Ambien for over two months."
Deborah E. of Apple Creek, Ohio says: "It is going much, much better. It took about a week for the Sleep Minerals to begin to work with me, but I am sleeping. What glorious words. I am sleeping!"
Jill C. of Ellensburg, Washington says: "My husband has been struggling with restless leg syndrome his whole life. He couldn't sleep more than 3 to 5 hours unless taking an addictive prescribed narcotic which he became tolerant to and the insomnia came back with no answers. The very first night he took Sleep Minerals II he slept through the night, 8 hrs +, with no restless legs. He's been taking it for a week and every night has had a great night's sleep. We are thrilled."
For more info on Sleep Minerals II, visit this page.
Darleen T. of La Mesa, California says: "I purchased Sleep Minerals for my teenage daughter. When she started on the minerals she hadn't been sleeping well for the past couple of years. The couple of months before beginning the minerals she wasn't sleeping more than 4 hours at night and the only way to get more sleep was to lose her entire day by napping and even that rarely worked. She was run down and feeling beyond her years… exhausted. She is only 18. Once she started on the minerals she is now tired at night! That's new! She can fall into a restful sleep by 10:30pm and sleep all night. Sleep Minerals are a heaven send and have given her a life back!"
Tammy B. of Spotsylvania, Virginia says: "I have been using the Sleep Minerals and I do notice a difference. Specifically, my legs don't seem to be restless anymore and my hip and knee joints don't ache. I haven't done anything else differently so I have to give all the credit to this product. I didn't take the Sleep Minerals one night and the next few nights were extremely miserable for me as I worked to get back on schedule. I usually sleep well and the best part is…. I'm waking up refreshed."
For more info on Sleep Minerals II, visit this page.