For some people, the bed time hour means yet another encounter with restlessness, sleeplessness, tension and waking up during the night. Are you one of the millions of people who just can't seem to go to sleep? Do you have trouble staying asleep during the night? Are you tired or yawning during the day?
If any of this describes what you're going through, you may be suffering from
one degree or another of insomnia. Insomnia is defined as "An inability to
fall asleep or remain asleep long enough to feel rested, especially when this
problem continues over time."
Sleep Minerals II is one of the most effective all-natural insomnia remedies. It is the original drug-free calcium and magnesium formula for better sleep. It calms sleeplessness and helps you to relax, fall asleep and sleep deeper.

It also helps you get back to sleep in the middle of the night and is a proven remedy for restless leg syndrome, menopause insomnia, teenage insomnia, prevention of osteoporosis, and correction of calcium and magnesium deficiencies. It comes in a softgel form with healthy oils, which is absorbed more rapidly and fully than tablets or capsules.






Click here to buy for $25.95 (120 softgels)
* Orders are shipped worldwide *
SLEEP MINERALS II REVIEWS:
Wendy R. of Honolulu, Hawaii says: *My friends know that I*ve had chronic insomnia for a long time. Surprisingly, I received the Sleep Minerals II and began taking it and found this thing really works. In the past if I ever got a good nights sleep I*d say *I slept like a baby*, but that*s the wrong comparison. Those little guys get up every two hours. I am actually beginning to sleep like an adult -- a much-rested adult.*
Valerie H. of Santa Clarita, California says: *I had such severe menopause insomnia that it took me hours to fall asleep even though I was extremely tired. My legs also had crawling and tingling feelings at night. I got the Sleep Minerals and after about a week, it started to work really well. I fall asleep now within 20 minutes and no more restless legs.*
L.R.C. of Massachusetts says: *I had become dependent on sleeping drugs and couldn*t sleep without them. Now I take the Sleep Minerals before bed and I can sleep through the whole night without drugs. I*m also able to easily fall back to sleep if I do have to get up. Another benefit is this helps alleviate my chronic fatigue and aches and pains.*

Tammy M. of Meridian, Idaho says: *I was plagued with insomnia for five years and desperate for a breakthrough. Nothing has helped me more than Sleep Minerals -- I*m so sold on them I could go door to door promoting them. I*m 60 years old and have never slept so soundly.*
Richard P. of Parkville, Maryland says: *The Sleep Minerals are making quite a difference. I was regularly waking up at around 3:00 a.m. and after a few days use my sleep improved quite a lot. I wake up once a night to go to the bathroom, but the great thing is, I then fall back asleep and sleep several more hours. This has been a great improvement.*

Sadie D. from the Netherlands says: *I am ever so grateful that I discovered Sleep Minerals II after suffering with premenopause and now the real menopause insomnia. I felt like I was slowly losing my mind due to the continual lack of sleep. I can*t express the relief of getting a good night*s sleep and being able to function properly.*

Kimberly B. of Troy, Michigan says: *I have been taking Sleep Minerals II for about a month now. I have tried everything out there and this supplement is amazing. I have suffered with insomnia for 2 1/2 years. I have also had restless leg syndrome my entire life and this is the first relief I*ve ever had...gone for a month now.*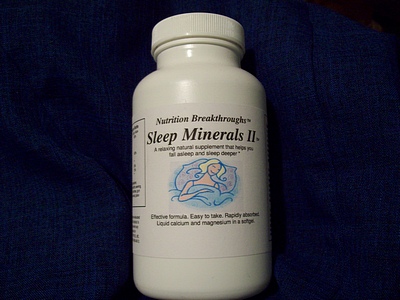 Click here to buy for $25.95 (120 softgels)
* Orders are shipped worldwide *
BENEFITS OF THIS NATURAL INSOMNIA REMEDY
Wouldn't it be wonderful to go to sleep and have a restful, deep sleep and
wake up feeling refreshed in the morning? Highly absorbable forms of
calcium and magnesium can be great natural sleep remedies, however not all
formulas are created equal. Nutrition Breakthroughs has tested many brands of
natural sleep aids and none have been as consistently effective as Sleep Minerals
II.
Sleep Minerals II contains calcium, magnesium, vitamin D and zinc. The ingredients
are specially formulated with carrier oils in a process that greatly enhances
their absorption. Natural rice bran oil is featured in the product. This oil is rich in two types of natural vitamin E and is also high in Oryzanol (a word that sounds like Original), which is a powerful antioxidant only found in rice bran oil. Antioxidants protect our tissues from deterioration and help slow the aging process.

Rice bran oil is proven in studies to lower cholesterol levels, remedy menopausal symptoms such as hot flashes, strengthen the immune system, and improve eye health. The essential fatty acids in the oil increase calcium absorption and improve bone strength. The softgels dissolve rapidly and go right to work.

RESEARCH STUDIES:
Calcium is directly related to our cycles of sleep. In one study published in
the European Neurology Journal, researchers found that calcium levels in the
body are higher during some of the deepest levels of sleep, such as the rapid
eye movement (REM) phase. This study concluded that disturbances in sleep,
especially the absence of REM deep sleep or disturbed REM sleep, are related
to a calcium deficiency. Restoration to the normal course of sleep was achieved
following the normalization of the blood calcium level.

Chronic insomnia is one of the main symptoms of magnesium deficiency. Sleep
in magnesium deficiency is usually agitated with frequent nighttime awakenings.
On the other hand, a high magnesium, low aluminum diet has been found to be
associated with deeper, less interrupted sleep. This was proven in a study done
by James Penland at the Human Nutrition Research Center in North Dakota. The
study was titled "Effects of trace element nutrition on sleep patterns in adult
women."
A balanced ratio of calcium to magnesium is important to overall health and
the two minerals should be taken together for best results. The best calcium and magnesium ratio is twice as much calcium as magnesium.

Click here to buy for $25.95 (120 softgels) Back to Top
DOCTOR & NUTRITIONIST COMMENTS
James F. Balch, M.D., discusses some natural insomnia remedies in his book
"Prescription for Nutritional Healing". He says: "A lack of the nutrients
calcium and magnesium will cause you to wake up after a few hours and
then not be able to return to sleep."
William Sears, M.D. writes: "Calcium helps the brain use the amino acid
tryptophan to manufacture the sleep-inducing substance melatonin. This
explains why dairy products, which contain both tryptophan and calcium,
are one of the top sleep-inducing foods."
The well-known nutritionist Adelle Davis writes about the roles of calcium in
her book "Let's Eat Right to Keep Fit". She suggests a natural sleep remedy for insomnia and says: *A calcium deficiency often shows itself by insomnia, another form of an inability to relax. The harm done by sleeping tablets, to say nothing of the thousands of dollars spent on them, could largely be avoided if the calcium intake were adequate.*

MENOPAUSE INSOMNIA AND PMS - CALCIUM IN WOMEN*S HEALTH
Nutritionist Adelle Davis goes on to explain how calcium can greatly enhance
a woman*s health. She says: The amount of calcium in a woman*s blood
parallels the activity of the ovaries. The blood calcium falls to such an extent
during the week prior to menstruation that PMS with nervous tension,
irritability, and perhaps mental depression results. At the onset of menstruation,
the blood calcium takes a further drop, often causing cramps of the muscular
walls of the uterus.

Davis continues: During the menopause, the lack of ovarian hormones
(estrogen and progesterone) causes severe calcium deficiency symptoms to occur. At these times, high amounts of calcium should be obtained and every step be taken to insure its absorption into the blood. When these precautions are taken
and the diet is adequate in other respects, the woman at menopause usually
loses her irritability, hot flashes, night sweats, leg cramps, insomnia, and mental
depression.



INGREDIENTS:

Supplement Facts 120 Softgels per Bottle

Amount per 3 sofgels % Daily Value

Calcium (from calcium 1000 mg 100%
carbonate and citrate)

Magnesium (from magnesium 500 mg 125%
oxide and citrate)
Vitamin D3 (cholecalciferol) 600 iu 150%

Zinc (from zinc oxide) 10 mg 67%

Other Ingredients: Softgel capsule (gelatin, glycerin, calcium carbonate, water),
rice bran oil, yellow beeswax and soy lecithin.
Contains no sugar, salt, starch, yeast, wheat, gluten, milk, egg, shellfish or preservatives.

Click here to buy for $25.95 (120 softgels)


SAFETY AND PURITY OF SLEEP MINERALS II
The factory that makes Sleep Minerals II has been awarded the following credentials:

Good Manufacturing Practices (GMP) Certification from the Natural Products Association (NPA).

Sleep Minerals II is made in the U.S.A. with ingredients sourced from the U.S.A.

DIRECTIONS FOR USE
For difficulty falling asleep or staying asleep during the night, take 1 softgel with water 30 to 45 minutes before bed. Stay with 1 for a week or two in order to let the minerals build up in your system. For many people, 1 works well. You can also increase to 2 softgels. Reduce the dose if you become drowsy in the day or your bowels become too loose.

If you experience an energetic effect or restlessness and are taking 1 softgel, take less than 1. To do this, gently bite one end open and squeeze out half or less of the creamy paste inside and drink it down. It can also be spread on some food. Save the rest in a baggie. This is also the approach to take if only 1 softgel makes you groggy in the morning.

Gradually building up the minerals in your system is the best approach to gaining better sleep. It may take several days or weeks of consecutive use to see the best results and the longer you use the product, the better the effects will be.
The minerals in this product are natures most effective sleep remedy. They relax the nerves and muscles, calm restless leg syndrome, and support women during menopause and PMS. Adequate calcium and vitamin D has been shown to strengthen bones and reduce the risk of osteoporosis.
To preserve freshness, keep bottle tightly closed. The softgel shell is made of natural gelatin and it has a slightly yellowish hue. Store in a cool dry place. Keep
out of reach of children.
TIPS FOR INSOMNIA:
Some good general advice for getting a better night's sleep would be to
reduce caffeine and sugar in the diet, improve the quality of your nutrition
by eating more fresh vegetables, and limit the use of alcohol. Avoid tobacco too
close to bedtime. Do some moderate, regular daily exercise that you enjoy,
such as walking or bicycling. For consistency, try to go to bed at the same
time each night. Ear plugs and an eye mask can also help. Keep the bedroom temperature comfortably cool. Use enough blankets to stay warm.

WHOLESALE OPPORTUNITY:
Sleep Minerals II is available at wholesale cost to qualified sellers who have a resale permit. Contact us at the email address or phone number below for more information.

NOTE:

Consult with your doctor before using minerals or nutritional supplements
if you are taking prescription drugs. It is advisable to take any medicines at
least two hours before or after taking supplements.

Click here to buy for $25.95 (120 softgels) Back to Top