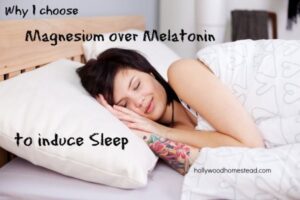 Magnesium has many benefits for good health, one of them being its action as an effective natural sleep aid.
Melatonin supplements are also used as a sleep remedy.  These two ingredients have different qualities, different health effects, and different possible side effects.  James F. Balch, M.D., author of Prescription for Nutritional Healing, writes: "A lack of the nutrients magnesium and calcium will cause you to wake up after a few hours and not be able to return to sleep."
One of the main symptoms of magnesium deficiency is chronic insomnia, accompanied with with frequent nighttime awakenings.  On the other hand, a high magnesium diet has been found to be associated with deeper, less interrupted sleep, per a study done by James Penland at the Human Nutrition Research Center in North Dakota.
In contrast with mineral supplements, melatonin is a hormone which is produced by the pineal gland, located in the center of the brain. At night or in the dark, the pineal gland naturally releases melatonin to regulate the sleep cycle. The body produces less melatonin with advancing age and while melatonin doesn't require a prescription, it's a potent hormone. It can help with sleeplessness. If too much is taken, it can result in grogginess or make it more difficult to wake up in the morning.
According to the University of Maryland Medical Center web site, inadequate magnesium appears to reduce serotonin levels in the brain.  One study found that magnesium was just as effective as an antidepressant drug in treating depression.  In addition, researchers at Stockholm's Karolinska Institute reported that for every 100 milligram increase in magnesium intake, the risk of developing type-2 diabetes decreased by 15 per cent.  Other studies have shown that people with migraine headaches have low concentrations of magnesium in their body.
Mildred Seelig, M.D., the leading medical researcher on magnesium says: "Many people needlessly suffer pain – including fibromyalgia, migraines and muscle cramps – because they don't get enough magnesium."
One possible side effect from taking too much magnesium is that the bowels may become too loose.  Another important nutritional tip that can help to avoid any deficiencies is to balance magnesium with calcium and vitamin D, rather than taking it alone.  The recommended ratio is 2 to 1 or twice as much calcium as magnesium.
According to the Mayo Clinic, possible side effects of melatonin include abdominal discomfort, anxiety, irritability, confusion and short-term depression.  Melatonin supplements can interact with various medications such as blood-thinning medications, medications that suppress the immune system, diabetes medications and birth control pills.
This health news is brought to you by Nutrition Breakthroughs and their natural sleep aid Sleep Minerals II.  Sleep Minerals II is the original magnesium and calcium based sleep aid and is known for soothing even the worst, long-term insomnia.  It also contains vitamin D and zinc and helps everyone from teenagers, to women with menopause symptoms, to older seniors, to get a good night's sleep.
Richard P. of Parkville, Maryland says: "The Sleep Minerals are making quite a difference.  I was regularly waking up at around 3:00 a.m. and after a few days use my sleep improved quite a lot. I wake up once a night to go to the bathroom, but the great thing is, I then fall back asleep and sleep several more hours.  This has been a great improvement."
Tammy M. of Meridian, Idaho says: "I was plagued with insomnia for five years and desperate for a breakthrough. Nothing has helped me more than Sleep Minerals. I'm so sold on them I could go door to door promoting them.  I'm 60 years old and have never slept so soundly."

For more information on Sleep Minerals II visit this page.