Greetings to you,
Here's a handy chart that shows all the many benefits of walking. Whether it's a walk around the mall or around the block, walking provides an almost unlimited number of health benefits.
Walking has been proven to remedy depression and boost one's mood.  A study from the Archives of Internal Medicine found that people who were experiencing depression improved greatly with daily walks.  The researchers found that those taking the walks had as much betterment in their symptoms as those taking anti-depressant drugs and the benefits lasted longer than medications.
Another study from the Harvard School of Public Health discovered that regular, moderate physical activity such as brisk walking can extend one's life by several years, even for people who are overweight – and these health betterments were demonstrated regardless of age, sex, weight or various health situations.
Walking remedies insomnia and helps good sleep.  Studies at the University of Arizona found that walking more than six blocks a day at a normal pace significantly improved sleep at night for women.  Scientists suspect that exercise helps set our biological clock into a consistent wake/sleep pattern, or it may boost the brain's production of serotonin, a neurochemical that encourages sleep.
Here's the "Top 20" chart: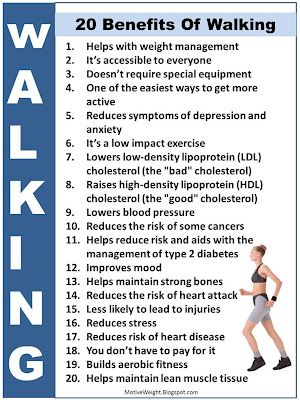 This natural health news is provided by Nutrition Breakthroughs, a publisher of nutrition articles and supplier of natural remedies since 2002. Nutrition Breakthroughs makes Sleep Minerals II the effective natural sleep aid with calcium, magnesium, zinc and vitamin D.
Carxela says: "My son is not using prescription sleep drugs any more. He has suffered from sleep problems and Sleep Minerals II has helped him sleep better while getting away from using the prescription medications that he was taking. My son has been taking this product for about 8 months now."
Richard P. of Parkville, Maryland says: "The Sleep Minerals are making quite a difference. I was regularly waking at around 3:00 a.m. and after a few days use my sleep improved quite a lot. I wake once a night to go to the bathroom, but the great thing is, I then fall back asleep and sleep several more hours. This has been a great improvement."
For more information, visit the Sleep Minerals II page.
Best of health,
Jobee Knight
President
Nutrition Breakthroughs