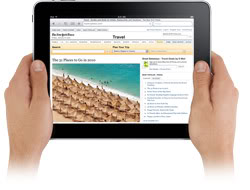 This news comes from the Rensselaer Polytechnic Institute in Troy, New York —  the nation's oldest technological university.
A new study from the Lighting Research Center (LRC) at Rensselaer Polytechnic Institute shows that a two-hour exposure to electronic devices with self-luminous "backlit" displays causes melatonin suppression, which might lead to delayed sleep at bedtimes, especially in teens.
The research team, led by Mariana Figueiro, associate professor at Rensselaer and director of the Light and Health Program, tested the effects of self-luminous tablets on melatonin suppression. In order to simulate typical usage of these devices, 13 individuals used self-luminous tablets to read, play games, and watch movies.
Results of the study, titled "Light level and duration of exposure determine the impact of self-luminous tablets on melatonin suppression," were recently published in the journal Applied Ergonomics.
"Our study shows that a two-hour exposure to light from self-luminous electronic displays can suppress melatonin by about 22 percent. Stimulating the human circadian system to this level may affect sleep in those using the devices prior to bedtime," said Mariana.
Until manufacturers develop more "circadian-friendly" electronic devices that increase or decrease light exposure based on time of day, Figueiro has several recommendations to reduce their effects on sleep. "We recommended dimming these devices at night as much as possible in order to minimize melatonin suppression, and limiting the amount of time spent using these devices prior to bedtime."
This health news is provided by Nutrition Breakthroughs, maker of the effective natural insomnia remedy Sleep Minerals II.  Sleep Minerals II contains powerful forms of the best known minerals for relaxation and sleep — calcium and magnesium, combined with vitamin D and zinc.  The ingredients are formulated in a softgel with healthy oils, making them more quickly absorbable than tablets or capsules and providing a deeper, longer-lasting sleep.
Lyn K. of Los Angeles, CA. says: "Not only do I sleep much more soundly with Sleep Minerals II, it seems to fill in a missing link in my health. I feel stabilized and I'm carried through my day with a stability from the sound rest. Also my heart and eyes feel healthier and stronger."
For more information, visit the Sleep Minerals II page.
From: Rensselaer Polytechnic Institute in Troy, New York http://news.rpi.edu/