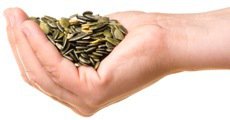 This article is written by
Case Adams, Naturopath,
and it was originally published on GreenMedInfo.com.
Nutrition Breakthroughs is proud to share this natural health news. Nutrition Breakthroughs makes the effective calcium and magnesium based sleep aid Sleep Minerals II
Conventional drugs for hair loss come with outrageous side effects such as male breast enlargement and erectile dysfunction. Recent research finds nature's answer to male pattern balding – pumpkin seed oil.