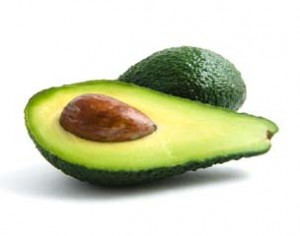 New analysis of data from the National Health and Nutrition Examination Survey indicates that consuming avocados may be associated with better diet quality and nutrient intake level, lower intake of added sugars, lower body weight and waist circumferences, and higher "good cholesterol" levels. These results were published in the January 2013 issue of Nutrition Journal.
Among the avocado consumers, average daily consumption was about one half of a medium sized avocado.
Avocado consumers had significantly higher intakes of certain important nutrients including 36% more dietary fiber, 23% more vitamin E, 13% more magnesium, 16% more potassium and 48% more vitamin K than non-consumers.
Avocado consumers also had significantly higher intakes of "good" fats and total fats (11% more) than non-consumers, although average caloric intake of both groups was the same.
Avocado consumers had significantly smaller waist circumference measures than non-consumers (an average of 4 centimeters smaller).
Avocado consumers weighed significantly less than non-consumers (an average of 7.5 pounds less).
This news is brought to you and edited by Nutrition Breakthroughs.  Since 2001 Nutrition Breakthroughs has been providing natural health articles and effective natural remedies.  Their mission is to provide nutritional supplements that get results, and therefore help people to avoid drugs and their side effects.
Since 2009, their natural sleep aid Sleep Minerals II has been keeping that promise – by providing highly absorbable forms of calcium and magnesium that soothe even the worst insomnia and help everyone from teenagers, to women with menopause symptoms, to seniors, to get a good night's sleep.
For more information on the effective natural insomnia remedy Sleep Minerals II, visit this page.
Article Source: http://www.eurekalert.org/pub_releases/2013-02/c-nsi022013.php