Study Shows Quality Sleep Eludes Women: Natural Sleep Remedies May Help
From World Health .Net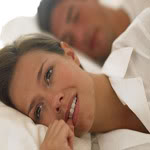 Poor quality sleep, frequent interruptions in sleep duration, and  waking earlier than desired are commonplace in today's 24/7 society.
Paivi Polo-Kantola, from the University of Turku (Finland), and colleagues surveyed 850 mothers about their sleep when they were 42 years old, on average.
Sixty percent of the study subjects reported waking up frequently at night, and 42% experienced morning sleepiness with 32% plagued by daytime sleepiness.
The team observed that postmenopausal hot flashes and night sweats further increased the difficulties with sleep. Observing that: "Chronic diseases and use of medications was associated with various sleep disturbances," the study authors observe that: "Almost one-quarter of middle-aged women is dissatisfied with their quality of sleep."
———————————————————————————————–
This news is brought to you by Nutrition Breakthroughs, maker of the effective natural insomnia remedy Sleep Minerals II.  Sleep Minerals II is the original drug-free calcium and magnesium formula for relaxation and better sleep.  It contains powerful forms of the best known minerals for relaxation and sleep — calcium and magnesium, in combination with vitamin D and zinc.
Valerie H. of Santa Clarita, California says: "I had such severe menopause insomnia it took me hours to fall asleep even though I was extremely tired.  My legs also had crawling and tingling feelings at night. I got the Sleep Minerals and after a few days, it started to work really well. I fall asleep now within 20 minutes and no more restless legs."
For more information, visit the Sleep Minerals II page.
Source: http://www.worldhealth.net/news/quality-sleep-eludes-women/